Prevent Yourself From Falling On Ice And Snow
Several people injure themselves each year by slipping and falling on the treacherous layer of ice on the surface. It doesn't feel safe to go out of the home or your car to walk on ice. There have to be ways to get you safe passage while walking on the snow. And definitely, walking like a penguin on the slippery icy surface is not the best way.
A driveway or sidewalk covered with ice has a thin layer of melted water present on its surface. The layer of water on the top reduces the traction between the surface of your shoe and the ice layer.
So how to get traction on ice?
Adding traction to walk on ice isn't just a matter of convenience but safety. Below are some of the best ways to increase the traction on ice and walk comfortably without the risk of falling and injuring yourself.
Traction Magic
Traction Magic is composed of geo crystals gathered from mines of the U.S. The product is mainly composed of two types of granules. The absorber granules maximize the absorption of the free water on the surface, whereas the gripper granules bury themselves into the ice and create a sandpaper-like effect making the surface non-slippery. Traction Magic is an efficient product when you need immediate traction and can't wait for the ice to melt.
Being a natural product Traction Magic is 100% environmentally safe, chemical-free, and pet safe. It is devoid of salts and substances that are damaging to the body and surfaces.
Traction Magic comes in containers of different sizes, and you purchase the size that suits your need. If you're looking for your business premise to remain safe to walk for your employees and customers then you can opt for the bigger sized container.
Get ready for winter with the ONLY Pet Safe Ice Melt you can trust
Shoe Cleats And Spikes
To increase traction you can also use spiked boots or cleats that get attached to your footwear.
These items work well on ice and snow. But, steel chains, cleats, and spikes slide readily and become a slip-and-fall hazard on tile and polished concrete surfaces. When worn indoors on hard surfaces like tile, ceramic, linoleum, sealed concrete, or epoxy, they tend to slip more.
Sand And Kitty Litter
Sand and kitty litter are other natural traction agents that are used to increase traction while walking on the snow. The major problems are that these traction agents are not that effective to enhance the traction, and they become a mess that needs to be cleaned afterward. If not removed properly, they tend to choke your drainage system.
Avoid Slopes And Staircases
I understand it is not always possible, but try to avoid slopes and stairs. If you have to cross them, use some side support and walk carefully.
Get ready for winter with the ONLY Pet Safe Ice Melt you can trust
Conclusion
These are some of the great tips that can help you walk safely on the slippery ice in this winter season. You can adopt some or all to avoid any unfortunate incident that can cause you any injury.
Other Ice Melt Products
Safe Paw
The Original and the #1 Pet and Child Safe Ice Melt for over 20 years. Guaranteed environmentally safe – will not harm waterways and sensitive wetlands. Safe Paw can change how winter affects our planet.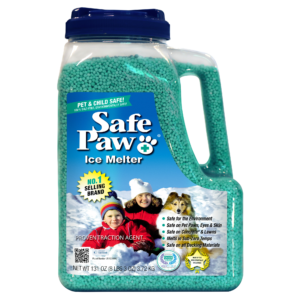 Safe Thaw
Imagine an ice melt you can put down and never worry about. It won't harm pets, kids and your property. That's Safe Thaw. Unlike anything else on the market, Safe Thaw can change how winter affects our planet.