Roof Repair in Winter During and After Snow and Ice Storms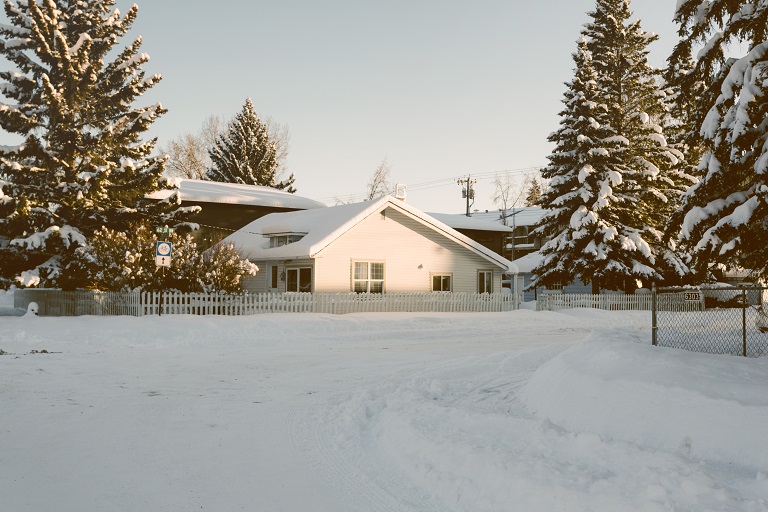 Getting on an icy roof during or after a winter storm is a dangerous task, but one that occasionally must be done when:
Snow loads exceed the safe weight per foot for your roof
Ice dams form and force water to back up beneath shingles and leak into your home
High winds blow shingles or other roofing material exposing the roof deck to the elements
Large branches fall onto the roof causing damage that must be repaired or temporarily covered
Note: If you're not experienced in roofing repairs or using ladders, call a professional contractor that has the equipment, tools, and means of providing a non-slip surface to walk on once they access the roof.
Equipment Needed for Winter Roof Repair
If you do decide on DIY roof repair in winter, you'll need what's on this list to get the job done.
Two helpers: Never access the roof by yourself. Having two assistants to hold the ladder secure is essential to your safety. Should an accident occur, they'll be there to help.
An extension ladder: The ladder should extend at least two feet above the roofline. This will allow you to safely step from the ladder onto the roof. Never step on a rung above the roofline, and never use a step ladder. Getting up might be easy, but getting down onto a step ladder will prove very difficult and dangerous.
A tarp: Most roofing experts recommend covering damaged areas with a tarp for temporary protection. Then, when the weather is suitable, the repair can be done more safely and more effectively. When tarping a section of the roof, the tarp must extend over the peak to prevent water from running down the roof onto exposed areas.
Rope to secure the tarp: Tying a rope to the tarp eyelets on one end and to a fixed point below, such as nails or hooks installed in the facia or soffit, will keep the tarp in place.
A means of secure footing: Walking on level surfaces that are icy is a bad idea. Getting on a sloped roof that is covered in ice is an even worse plan. Some roofers suggest using carpet strips, but the carpet has a plastic backing and you will slip off it or it will slide off the roof like a child's plastic sled slides down a hill. Traction mats move too, so aren't a solution. You need something stable that won't slide from beneath you. Roofers have discovered Traction Magic, a granular material that grips ice firmly to provide a secure, non-slip surface to walk on.
Traction Magic for Icy Roof Repair
Here's why Traction Magic is the right product for getting traction on an icy roof. It is formulated with a proprietary blend of two key ingredients that are effective in even the very coldest temperatures:
Absorbers siphon up the water layer on top of the ice. We know about this layer from physics, and it is what makes ice so slippery. Super-cold ice is called dry ice because it doesn't have the liquid surface found on winter ice. The absorbers take up the water to dry the surface.
Grippers are tough granules covered with spiked outcroppings. They aren't cubes with six flat sides but randomly shaped granules with dozens of spikes. That is why they are so much more effective than grains of sand, many of which have rounded sides that don't grip. The grippers embed into the ice when pressure is applied from walking or kneeling on them, and a secure, non-moving surface is instantly created.
Use the traction product preferred by experienced roofing contractors, Traction Magic. It is guaranteed to be safe, easy to apply, and to deliver instant traction on icy surfaces. It won't harm your roof and because it doesn't contain salt or harsh chemicals, is safe for use around children, pets, and landscaping.
Get ready for winter with Traction Magic instant grip on snow and ice
Other Ice Melt Products
Safe Paw
The Original and the #1 Pet and Child Safe Ice Melt for over 20 years. Guaranteed environmentally safe – will not harm waterways and sensitive wetlands. Safe Paw can change how winter affects our planet.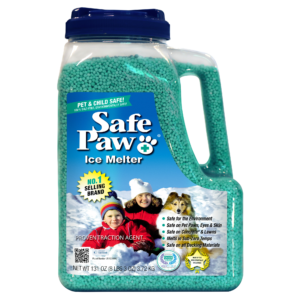 Safe Thaw
Imagine an ice melt you can put down and never worry about. It won't harm pets, kids and your property. That's Safe Thaw. Unlike anything else on the market, Safe Thaw can change how winter affects our planet.