Traction Magic- Natural Crystals?
As the harsh winter weather knocks at the door, unsafe roads and auto accidents become one of the critical winter concerns. Icy walks or snow-covered ground can easily lead to serious slip and fall injuries.
Apart from an eco-friendly deicer that takes time to work, there is another better solution to avoid winter injuries. Traction Magic works in a flash to provide you traction while keeping you and your property safe. So, let us learn more about this natural traction agent in this article.
What Is Traction Magic?
Traction Magic is an ISO 9001 certified non-toxic traction agent. The ISO system is a globally recognized Quality Management System, and Traction Magic's 9001 certification states that the product achieves customer satisfaction while meeting their expectations.
Children, pets, plants, and the environment are safe when this anti-slip agent is used around your home and business.
How Does It Work?
Traction Magic has a two-way effect. First of all, it absorbs the excess slippery water on the ice surface, and then the grippers hook themselves to the ice to give traction. Unlike other traction agents that include dangerous chemicals and corrosive salts that can demolish concrete walls, parking lots, and driveways, it does not harm your property.
Get ready for winter with the ONLY Pet Safe Ice Melt you can trust
How Do Natural Crystals Of Traction Magic Work?
This product is a blend of natural volcanic rock and seven other minerals which are safe for everyone and can be reused.
The absorbers in Traction Magic absorb the liquid on the ice making it less slippery. The grippers, another granule component, then use their gripping capacity to attach themselves to the ice. Thus, providing a stable surface on which you can drive safely or take your children and pets for a walk without fear of slipping and falling.
Traction Magic uses this collaborative approach to ensure quick traction on any snowy surface without using any harmful chemicals or salts. It's a more practical solution for slippery ice surfaces that is cost-effective and environmentally friendly.
How To Use Traction Magic?
To use Traction Magic is far easier than shoveling or using any other eco-friendly deicer, salt-based ice melt, or traction agent. Just open the packet and apply it. Spread it around your house, businesses, parking areas, barn, walkways, and playing areas to get instant traction. You can rub it on the tires to gain grip while driving in the snowy terrain.
Traction Magic comes as red granules and is available in both a 15-pound bucket and a 35-pound bag.
Why Is Traction Magic Better Than Ice Melt?
Salt-based ice melts give traction on ice by cracking and dissolving the icy surface. But at the same time, they cause excessive damage to their surroundings. The harmful chemicals and salts present in ice melts can corrode concrete and are poisonous for kids and pets likewise disastrous to soil and water bodies.
Conclusion
Traction Magic takes a different method to creating traction on ice than conventional ice melt or traction agents, which use salt bases to give you traction. Whereas, Traction Magic produces enough friction to keep cars, children, and pets safe in ice without any hazardous chemicals.
Get ready for winter with the ONLY Pet Safe Ice Melt you can trust
Other Ice Melt Products
Safe Paw
The Original and the #1 Pet and Child Safe Ice Melt for over 20 years. Guaranteed environmentally safe – will not harm waterways and sensitive wetlands. Safe Paw can change how winter affects our planet.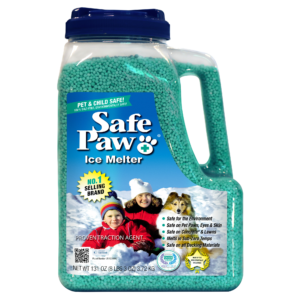 Safe Thaw
Imagine an ice melt you can put down and never worry about. It won't harm pets, kids and your property. That's Safe Thaw. Unlike anything else on the market, Safe Thaw can change how winter affects our planet.