How To Deal With Snow And Ice In An Environmentally Friendly Way?
The most frequent and conscious question people are asking today is 'how can I be more environment-friendly,' 'how can I use a salt-free deicer and know it works?', etc. With so many questions rummaging through your head, your decision will take time to come around.
Nothing prepares us for the worst than an unexpected snowstorm or a blizzard that brings life to a standstill in many ways. But before we understand what to do, let us take a quick look at how to prepare for a blizzard or a snowstorm.
Keep track of the weather report, especially if you stay in cold or frequently hit regions.
Stock all essentials such as gasoline, non-perishable food items, flashlights, crank radio, extra batteries, portable cellphone chargers, warm blankets, etc.
Keep all your snow and ice removal products handy, such as salt-free deicers, snow shovels, snowblower, electric shovels, sturdy gloves, snow boots, etc. These are handy when you step out after the storm passes.
Keep all your doors and windows tightly shut to avoid any snow coming inside.
These are a few essentials to help you during a snowstorm. A blizzard may last for a day or several days, depending on the intensity. Therefore, it is best to keep track of all the weather-related news forecasts before stocking your essential supplies.
After the snowstorm passes, you have to clear the snow from your sidewalk, driveway, and steps in a systematic manner. You will need all the snow removal equipment and a salt-free deicer if you opt for an environment-friendly snow removal.
Get ready for winter with the ONLY Pet Safe Ice Melt you can trust
100% salt-free and chloride-free deicer at your disposal!
Traction Magic has taken the market by storm because of its salt-free properties. A quick 100% natural ice melt and traction agent, Traction Magic is easy to spread and an excellent emergency kit.
It is perfect for black ice and extreme weather management and covers around 3000 sq ft of area with its emergency kit. It is helpful to remove your car and helps when you need to walk on driveways, walkways, sidewalks, decks, and steps. It works like magic on temperature down to -35 degrees C, too! What a fantastic option, right?
It protects your soil, foliage, and concrete because it does not have a freeze-thaw cycle. Once the rock-like crystals spread on the surface, they lock into the ice and water, thus making it easy to move. You can quickly clear it off from your driveway without damaging the soil.
Get ready for winter with the ONLY Pet Safe Ice Melt you can trust
To Conclude
While you prepare for a blizzard and look for salt-free deicers, Traction Magic is your best bet. It is kid and pet-friendly as it does not harm them in case they ingest it accidentally either. It comes in a 15lb emergency kit, a 45lb bag that covers nearly 7000 sq ft, and a portable 1.75lb disposable can that is as small as your coke can.
Let the magic of the crystals work its way through ice and help you from not slipping any time.
Other Ice Melt Products
Safe Paw
The Original and the #1 Pet and Child Safe Ice Melt for over 20 years. Guaranteed environmentally safe – will not harm waterways and sensitive wetlands. Safe Paw can change how winter affects our planet.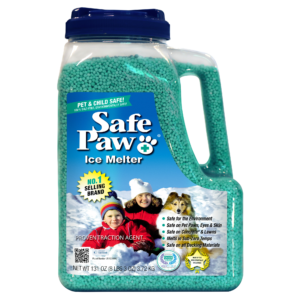 Safe Thaw
Imagine an ice melt you can put down and never worry about. It won't harm pets, kids and your property. That's Safe Thaw. Unlike anything else on the market, Safe Thaw can change how winter affects our planet.