How To Prepare Your Home For Winter Storms, Blizzard And Snow
Snow blizzards have become a common phenomenon during the winter season. Blizzards are severe winter storms that combine snow and winds gusting at a very high speed. Blizzards cause low visibility, and driving around becomes really difficult. You should make necessary preparations for your home if there is an imminent blizzard weather warning. Blizzards can cause serious damages like disrupting the emergency services, loss of power, closure of roads, stranded motorists, and accidents.
How To Prepare For A Blizzard At Home
Here is a handy checklist that can help you store some essentials and get ready to face an upcoming snow blizzard.
Some essential items that can help you during the storm include:
1. Shovels And Snowblower:
Snowstorms result in thick snow layer deposits that can go up to several feet in height. Once the storm settles down, and you have to step out of your premises, you need to shovel the snow to make your way. If you have a snowblower, make sure it's filled with gas and functioning properly. Snowblowers are effective when you have a large area to clean.
2. Ice Melts And Traction Agents:
After you've shoveled the snow, you need to make sure that the snow melted due to the rising temperature during the afternoon doesn't form into a treacherous layer of slippery ice as the temperature drops again. To prevent that from happening, you have to spread ice melt on the sidewalks, parking lots, in front of the stores, or residential apartments. While selecting the ice melt make sure you are not going with a chloride-based ice melt like rock salt. These chloride-based salts can cause severe damage to your concrete, corrode plant & machinery, contaminate the water, destroy the nearby plantation, and are very harmful to pets and kids if it gets ingested by them.
Get ready for winter with Traction Magic instant grip on snow and ice
So what should you use instead? You can use environment and pet-friendly ice melt Safe Paw from Gaia Enterprises.
However, ice melt takes time to work and melt the ice layer. If you need immediate traction on the ice surface to provide a safe walking path to your customers or residents, you should go with natural traction agents. Traction Magic, scientifically prepared and marketed by Gaia Enterprises is one such natural traction agent that absorbs excess water from the ice layer and increases the friction to walk safely on ice. There are other traction agents in the market like sand, kitty litter, or sawdust to choose from.

3. Extra Batteries:
Keep some power pack-up and extra batteries. Power outages are common in snow blizzards due to the damage caused to the power transmission system. Tune into radios, and it will keep you updated on weather alerts even in the case of power outages.
5. Car Safety Kit:
Though traveling during a blizzard is not advisable, if you must, it's important to have a car safety kit in your car. It should include items, like extra blankets and warm clothing, a flashlight, a shovel, a windshield scraper, water, and snacks. Get your car winterized if you need to be out during the storm. Get your car winter tires and replace the lubricants with the ones having lower freezing points before the onset of winters.
Traction Magic can also provide the required traction for your car if it gets stuck in the snow. You can simply rub the granules on the tire surface to get some extra traction.
Get ready for winter with Traction Magic instant grip on snow and ice
Conclusion
It is advisable to prepare yourself for severe snow blizzards to protect yourself and your family members. Make arrangements in advance because once the blizzard arrives it is dangerous to go out of the house.
Other Ice Melt Products
Safe Paw
The Original and the #1 Pet and Child Safe Ice Melt for over 20 years. Guaranteed environmentally safe – will not harm waterways and sensitive wetlands. Safe Paw can change how winter affects our planet.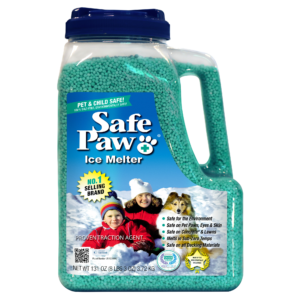 Safe Thaw
Imagine an ice melt you can put down and never worry about. It won't harm pets, kids and your property. That's Safe Thaw. Unlike anything else on the market, Ice and Snow Management You Can Trust.