How Ice Destroys Concrete And What You Should Do?
Ice is the #1 reason for concrete damage, road erosion, roof problems, and rusting metal. Well, not ice directly, but the deicers. The salt and chloride content in every ice melt or deicer leads to the slow erosion of the concrete surface, thus leading to the need to purchase salt free deicer. An unexpected and heavy snowstorm disrupts regular life and forms a thin layer of ice on the surface, under the heavy layer. But before the onset of a snowstorm, there are a few things we should stock.
So, let us look at how to prepare for a blizzard and what to do after it passes.
Prepare an emergency kit prescribed by the American Red Cross society that includes a gallon of water, flashlight, non-perishable items, hand-crank radio, multi-purpose tool, medications, extra cash, blanket, area map, etc.
Salt spreader, snow shovel, lock deicer, and salt free deicer are must-haves as emergency supplies in your closet. Keeping all snow and ice removal devices, such as Traction Magic, handy is a boon.
Keep a stock of gasoline in an airtight gas can if you run out of fuel in your generator or your car.
Keep all your doors and windows tightly locked to avoid any unexpected snow inside the house. But once the blizzard passes, how can you prepare to venture outside the house?
Keep your snowblower or electric-powered snow shovel ready to remove heaps of snow from your front yard and driveway.
After removing the snow, you need to stay clear of falling on stairs or your driveway while walking. It is best to wear sturdy snow boots to avoid slipping. It would help if you also used a salt-free deicer and traction agent, such as Traction Magic, to help you tread stress-free.
Clear the snow one level at a time and do it systematically. Pile the snow in such a place where it will not block your view nor your car.
Get ready for winter with the ONLY Pet Safe Ice Melt you can trust
How Can You Stay Safe On Slippery Surfaces?
Traction Magic is the newest kid on the block with potent traction agents that help you walk without slipping. You can use this on your sidewalks, steps, or as instant traction for your car too. How cool is that!
The spiky granules of Traction Magic help to form a firm grip on any icy surface, and you will not find any residue on the sole of your shoes either. The granules absorb the surface ice and water and lock themselves in the ice creating a non-skid surface to travel by car or foot. Its all-natural crystals are 100% environment-friendly and do not harm kids and pets.
To Conclude
Whether for your home or your car, having a salt free deicer handy is always a blessing in disguise. With Traction Magic, you save money as it is soil-friendly and does not harm the foliage nor damage concrete, unlike other deicers.
Get your kit ready today!
Get ready for winter with the ONLY Pet Safe Ice Melt you can trust
Other Ice Melt Products
Safe Paw
The Original and the #1 Pet and Child Safe Ice Melt for over 20 years. Guaranteed environmentally safe – will not harm waterways and sensitive wetlands. Safe Paw can change how winter affects our planet.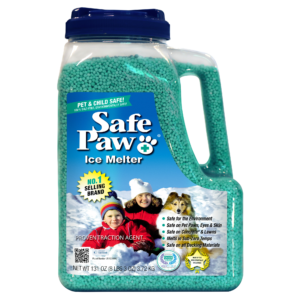 Safe Thaw
Imagine an ice melt you can put down and never worry about. It won't harm pets, kids and your property. That's Safe Thaw. Unlike anything else on the market, Safe Thaw can change how winter affects our planet.