Instant Surface Traction- Ultimate Solution
Winter's loveliness, with its white crisp snowflakes, is something we all enjoy. A gorgeous day with snowfall is a memorable experience. However, when these snowflakes collide with their surroundings and form ice on the road and sidewalks, they can be a nuisance. A walkway covered in ice can be a very unpleasant experience. It necessitates the use of instant surface traction that prevents us from slipping while walking on ice.
How To Walk On Icy Roads?
Walk On Ice
Walk on ice is a salt-free traction solution and provides an instant grip on snowy, icy conditions. It has naturally occurring minerals that are gentle on the eyes, skin, and paws. It has absorbers and grippers that work to give you instant traction. The absorbers soak the water layer that forms on the surface. The grippers then secure the ice with their spikes, giving you quick traction.
It is safe for people, pets, and the environment, and it works swiftly regardless of the surface temperature or condition. It's packaged in a convenient disposable can. This product is a mini version of Traction magic, the instant surface traction agent.
Walk on ice is made of micronutrients. They allow the product to be swept into the lawn or garden for greener grass and a lush garden in the spring.
Get ready for winter with the ONLY Pet Safe Ice Melt you can trust
Shoe Chains And Traction Cleats
These accessories attach to footwear and provide you traction while walking on slippery ice.
On the plus side, these items work well on ice and snow. They have the disadvantage of being difficult to put on. Steel chains, cleats, and spikes slide readily and become a slip-and-fall hazard on tile and polished concrete. Thus they need to be removed before entering buildings.
Ice Melt With Rock Salt
The traditional ice melting product having rock salt as the main constituent is also used as a traction agent. They can irritate the skin, eyes, mouth, and throat, such as sodium chloride and magnesium chloride. Humans, pets, and wildlife are all in danger.
Kitty Litter And Sand
Sand and kitty litter are other traction agents used by people. Sand provides immediate traction, but it does not absorb moisture. As a result, the possibility of slipping and falling still exists. You must make sure that the sand used for traction does not block your drains. 
Kitty litter will absorb moisture and give immediate traction, but only to the point where it will stick to the driveway. 
Wood Ash
If you have any leftover wood ash from your fireplace, this is a simple and inexpensive option but not entirely safe. Wood ash, which contains potassium salts, hence be careful while using it near plants and pets.
Coffee Grounds
Sometimes people also use coffee grounds for traction. Coffee grounds can be hazardous to dogs if consumed. If you're cultivating seeds or young plants, coffee grounds should be kept away from them.
Get ready for winter with the ONLY Pet Safe Ice Melt you can trust
Conclusion
It can be dangerous to walk in the snow. There's nothing more humiliating than slipping on the ice and having people laugh or smile at your misfortune. It can not only harm your ego, but it can also harm your body. However, if you move cautiously in the snow and use a safe traction agent, you can escape this embarrassing predicament. Walk on ice is an easy-to-carry traction provider. There is another bulk version of the product, Traction magic, the instant surface traction agent.
Other Ice Melt Products
Safe Paw
The Original and the #1 Pet and Child Safe Ice Melt for over 20 years. Guaranteed environmentally safe – will not harm waterways and sensitive wetlands. Safe Paw can change how winter affects our planet.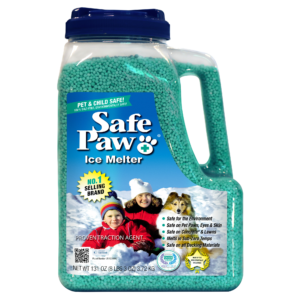 Safe Thaw
Imagine an ice melt you can put down and never worry about. It won't harm pets, kids and your property. That's Safe Thaw. Unlike anything else on the market, Safe Thaw can change how winter affects our planet.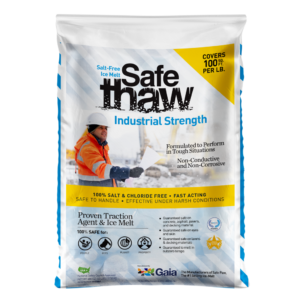 ---