Winter Driving Tips To Keep You Safe
Winter driving can be dangerous, especially if you're not prepared. Before you hit the roads this season, take some time to prepare your vehicle and yourself for winter driving. If you think salt is the solution to your worries, well it's not. You have to look for a good alternative to rock salt.
Here are a few tips on how to be safe while driving in cold weather:
Check The Forecast Before You Go
The information you need to stay safe on the road can be found in any number of ways. You should check the forecast before you go, whether it's from your local news station or the Weather Channel app on your smartphone.
Install Snow Tires On Your Car
You must have snow tires on your car. Snow tires are made of a softer rubber compound that grips the road better during winter conditions. This is not something you can achieve with regular all-season or summer tires, which are designed to work in warmer weather and are designed to be as quiet as possible.
Get ready for winter with Traction Magic instant grip on snow and ice
Alternative To Rock Salt- Traction For Tires
If you think salt is the solution to your worries, well, it's not. You have to look for an alternative to rock salt. A traction agent for tires is not a substitute for safe driving, but it can go a long way toward helping you and your car stay on the road in icy conditions by providing traction on ice.
Ice traction for tires works best when they're applied to the tires before they get too cold, so make sure you use them as soon as possible after a snow or ice storm hits your area.
Traction Magic comprises natural volcanic rock and seven other minerals that are 100% environment-friendly and can be used on your driveway or snow-covered roof. It is not messy, does not stick to the shoes, does not block sewers or gutters, and seamlessly mixes with soil. It acts as a conditioner for plants as well.
Traction Magic helps to build excellent traction on any slippery surface because they instantly absorb water and allow the grippers to lock into the ice, creating a non-skid surface. They provide good traction for boots also.
Get ready for winter with Traction Magic instant grip on snow and ice
Avoid Icy Bridges
Drive slowly and be prepared to stop. Ice can form on bridges without warning, so it's imperative to be extra cautious when driving over them. If you see ice on the road or bridge, slow down and keep your distance from other vehicles.
If there are icy bridges in your area, it's best to avoid them altogether if possible.
Slow Down
Slow down and give yourself some extra room when driving on snow or ice-covered roads. Know how slippery the road is, and if you see that there's a lot of ice on the road, take it easy. This will help keep your tires from slipping. Ensure your tires are in good condition, so they have plenty of traction to keep you moving forward. If it looks like other drivers are having problems with their cars sliding around, then it's best to slow down even more than they already are doing so that you don't get into an accident either.
Other Ice Melt Products
Safe Paw
The Original and the #1 Pet and Child Safe Ice Melt for over 20 years. Guaranteed environmentally safe – will not harm waterways and sensitive wetlands. Safe Paw can change how winter affects our planet.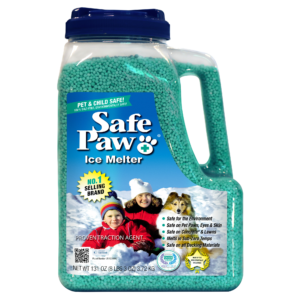 Safe Thaw
Imagine an ice melt you can put down and never worry about. It won't harm pets, kids and your property. That's Safe Thaw. Unlike anything else on the market, Ice and Snow Management You Can Trust.