Provide Instant Grip on Your Facility's Outdoor Area
Winter isn't everyone's favorite season, and the aftermath of winter storms and blizzards is no different. Winter storms, blizzards, and bitterly cold temperatures have the potential to wreak significant damage. Severe winter storms can pose a threat to life and property. They can bring ice, snow, and cold temperatures.
As a result, frostbite, hypothermia, and slip and fall accidents are all potential hazards. But don't worry; if you're well-informed and prepared, you can mitigate the damage by preparing in advance, using an organic salt-free deicer, and providing adequate traction.
How to Prepare for a Blizzard
Prepare your winter emergency kit for the safety of all. Make backup plans for loss of electricity and check your roofs and drains.
Make sure you're dressed correctly for the weather.
Because sidewalks, parking lots, and roadways are likely to be wet and slick, wear warm, waterproof boots with adequate tread.
Stock up on de-icing supplies and have shovels on hand. After a heavy snowstorm, stores typically run out of ice melts. It is better to stock up ahead of time. Get safe organic salt-free ice melt for your premises. It will not corrode your concrete and metals. It will also provide a protective shield for up to 72 hours.
After a heavy snowstorm, it is not possible to remove accumulated snow in minutes. To avoid any slip and fall in your outdoor facility, use a suitable traction agent. It is the sole responsibility of the property or business owner to safeguard their guests and employees from any slip and fall incidents.
How to Provide Instant Grip on your Facility's Outdoor Area?
Traction Magic
Due to its all-pure components, Traction Magic serves as both an absorber and a gripper, resulting in a patent-pending 2-part granule system. Because of their spike-like tips, the absorbers will first absorb the liquid on top of the ice, decreasing it and allowing the grippers to embed into the ice sheet. Thus, providing instant grip.
Get ready for winter with the ONLY Pet Safe Ice Melt you can trust
Shoe Chains and Traction Cleats
They are accessories that attach to footwear. Steel chains, cleats, and spikes slide readily and become a slip-and-fall hazard on tile and polished concrete. They need to be removed before entering buildings.
Ice Melt
These are traditional ice melting products. There are hundreds of items to choose from. Even though rock salt can melt ice while giving some friction, it is not the ideal product to use on your premises.
The salt-based ice melts contain dangerous chemicals and corrosive salts that can damage concrete, parking lots, and driveways. To overcome these issues, you can use an organic salt-free deicer. It will melt ice while safeguarding your premises.
Kitty Litter
The fact that kitty litter does not contain rock salt is the reason it is used for traction. But it contains clay and can become extremely slippery when it breaks down and partially freezes.
Conclusion
Traction agents are preferred by property owners since these products protect their clients and limit their responsibility. Products like Traction magic don't have any negative impact on people, pets, and the environment.
Get ready for winter with the ONLY Pet Safe Ice Melt you can trust
Other Ice Melt Products
Safe Paw
The Original and the #1 Pet and Child Safe Ice Melt for over 20 years. Guaranteed environmentally safe – will not harm waterways and sensitive wetlands. Safe Paw can change how winter affects our planet.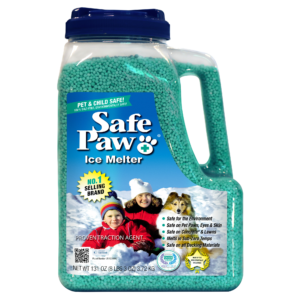 Safe Thaw
Imagine an ice melt you can put down and never worry about. It won't harm pets, kids and your property. That's Safe Thaw. Unlike anything else on the market, Safe Thaw can change how winter affects our planet.