How To Reduce Premises Liability From Slip And Fall Accidents
As a business owner, you have premises responsibility, which means you are liable for maintaining your property safe and in excellent working order for employees and visitors. Slip and fall accidents can happen anywhere. But if this incident happens on your premises, you may be subject to a personal injury lawsuit. To protect your business from such liabilities, it is critical to avoid slip-and-fall claims. There are multiple ways by which you can achieve it and, the most popular being using anti-slip traction around your business.
In this article, we will understand different solutions by which you can reduce premises liability from slip and fall accidents.
1.Check For Hazards
Examine the work environment regularly: keep it clean, provide adequate illumination, and check that all equipment is in good working order.
Make arrangements for the repair of potholes and fissures that could cause problems in bad weather. Make sure that the lighting systems that cover parking lots and walkways are working well.
2. Keep A Track Record
Keep track of when a hazard arises in your workplace and what you did to address it. Keep a maintenance logbook of your inspections. Examine last year's reports to see if there have been any previous slip-and-fall accidents. Find solutions to the issues you are having. Take feedback from your employees regarding safety concerns and make necessary arrangements.
3. Snow Traction
Providing snow traction is one of the best solutions to avoid slip and fall accidents. Commercial Traction Magic works instantly and is free from any harmful constituents. Traction Magic has natural crystals obtained from mines across the United States.
The absorbing crystals enhance the absorption of free water from the icy surface turning it less slippery. While grippers bury themselves into the ice, providing a non-slip surface with a sandpaper effect.
Traction Magic achieves this while remaining completely safe to handle, chemical-free, and safe for all surfaces, including new concrete. It is easy to clean and works well in all temperatures and terrains.
Get ready for winter with the ONLY Pet Safe Ice Melt you can trust
4. Use Warning Signs
Interior walking surfaces like entrances, reception rooms, corridors, and stairwells can be hazardous when snow is brought inside premises by employees' shoes. Use a floor fan to keep paths dry and safe for personnel. Place wet floor signs in strategic locations to slow people down as they enter the building. To absorb excess water, use a floor mat and keep spare mats on hand.
5.Snow Removal
Make a plan about which entrances need to be unblocked on priority, how often snow needs to be removed, and by whom. Even though ice melt is also an option to remove snow from your premises, now people are trying to find a more nature-friendly version of this salt-based product.
The ice melt is composed of harmful chemicals and salts, hence might not be used in large amounts and frequently. The chemicals present in them will not only corrode your pavement and concrete but will harm the surrounding flora and fauna.
Conclusion
Even though you cannot control the weather, you can minimize the adverse effects of snow and ice on your business. By commercial Traction Magic, you will ensure that your employees and visitors do not face slip and fall incidents in your business premises. Spill the magic crystals of Traction Magic on all entry and exit points, parking areas, and walkways around your business and enjoy a safe footfall throughout winters.
Get ready for winter with the ONLY Pet Safe Ice Melt you can trust
Other Ice Melt Products
Safe Paw
The Original and the #1 Pet and Child Safe Ice Melt for over 20 years. Guaranteed environmentally safe – will not harm waterways and sensitive wetlands. Safe Paw can change how winter affects our planet.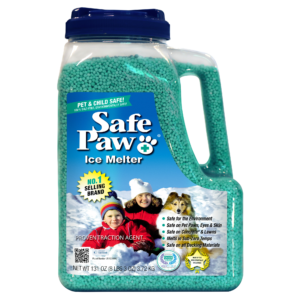 Safe Thaw
Imagine an ice melt you can put down and never worry about. It won't harm pets, kids and your property. That's Safe Thaw. Unlike anything else on the market, Safe Thaw can change how winter affects our planet.