Our 5-Step Guide To Getting Your Vehicle Out Of The Snow
Driving on ice and snow necessitates extra caution and focus. Icy roads can be frightening. On the ice, the chance of an accident increases. For all of you seasoned veterans, you already know how to deal with ice and snow. If you're new to commercial vehicle driving and apprehensive about hitting the road this season, here are some winter driving guidelines to get you where you need to go.
In the winter months, you need to gear up your heavy commercial vehicles for treacherous ice. While you get ready for winter driving, you need to be aware of how to prepare for blizzards, as they are common winter woes for drivers.
1. Make Preparations Ahead Of Time
Plan if you know there's a risk you'll face snow or ice. When it comes to alternate routes, parking your vehicle, fueling up, and more, it might save you a lot of time and hassle.
Fill up your fuel tanks when they go below three-quarters full. Keeping your tanks full adds weight to your truck, which might help you get better traction.
2. Clear A Path Around The Tires
Dig a path around the tires. Carrying a little shovel in your car is a good idea. If you don't have a shovel, you can use your hands or a piece of wood. It's critical to keep the tailpipe free and unclogged with snow at all times. A clogged tailpipe can lead to hazardous pollutants accumulating inside your car.
3. Add Traction
Traction is a crucial factor while driving in snow. But how to get traction on ice?
To create traction under your tires, you can use a traction agent. Sprinkle Traction Magic behind and in front of your tires. You can also keep it in your heavy vehicle for winter emergencies. Spread it in front of your tires to get the desired traction. It gives instant protection with the help of its two contents- absorbers and grippers.
Get ready for winter with the ONLY Pet Safe Ice Melt you can trust
4. Keep A Stockpile Of Emergency Supplies On Hand
Unfortunately, it is impossible to predict when an emergency scenario will arise. You can, however, travel prepared to deal with snowstorms and blizzards. That includes bringing extra cold-weather gear, blankets, food, water, a tool kit, and more in your truck.
5. Check Your Brakes And Lights
When there is no one behind you, it is a good idea to test your brakes. Reduce your speed to 15 mph or less and apply the brakes lightly to observe if the tires respond with traction. Make sure your headlights, taillights, and other lights are cleaned each time you stop.
Conclusion
Driving in white-out conditions on ice and snow is dangerous. Commercial vehicle drivers and owners have a difficult task to undertake. It becomes crucial to understand how to prepare for a blizzard, to get safely to your destination during the winter months. You can lessen your risks while driving on ice by following safe driving techniques, slowing down, and adding traction to your tires.
Get ready for winter with the ONLY Pet Safe Ice Melt you can trust
Other Ice Melt Products
Safe Paw
The Original and the #1 Pet and Child Safe Ice Melt for over 20 years. Guaranteed environmentally safe – will not harm waterways and sensitive wetlands. Safe Paw can change how winter affects our planet.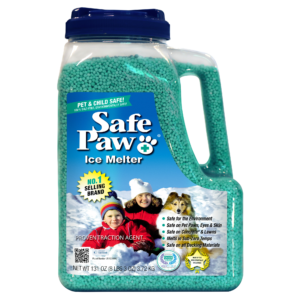 Safe Thaw
Imagine an ice melt you can put down and never worry about. It won't harm pets, kids and your property. That's Safe Thaw. Unlike anything else on the market, Safe Thaw can change how winter affects our planet.