Winter Hack: This Provides Instant Traction
Homeowners have a legal obligation to keep their properties in good repair so that visitors and guests are not in danger. Keeping people safe from injury requires removing possible risks and eliminating recognized hazards.
Any damp or slick walking surface needs proper traction to avoid any accidents. Pet owners should pay extra attention while taking their dogs for a walk on ice.
Here are some winter hacks for instant traction.
Kitty Litter
It absorbs moisture and aids in ice, snow, and slush traction.
It is tiresome to get rid of it from cement. When the snow melts, you'll be left with gummy dirt that could freeze, stick, and cause ice to become dangerous. As a result, it is not a popular option among homeowners.
Walk On Ice
It comes in convenient disposable canisters that can be taken with you wherever you go. It may be used on tires or on sidewalks and steps as an instant traction agent.
The 'absorbers' drain the water, making the ice less slippery and creating a non-slip surface. While the 'grippers' grip the ice, providing traction for you and your family. You can use it on any surface surrounding your house, including your driveway, sidewalk, and patio.
Get ready for winter with the ONLY Pet Safe Ice Melt you can trust
Sand
It is used to give traction but is not the right product in the long run.
Sand can quickly track inside your property, creating a mess both inside and out. Because of its abrasive nature, it can cause damage to your floors and carpets. If you use sand, be prepared to clean thoroughly during the spring cleaning season, as it may collect in drains and plug them.
A Mixture Of Sand And Salt
As an ice melt and traction agent, a mixture of sand and salt is also used for traction. The dangers of salt are significantly greater than those of sand. It's caustic and may wreak havoc on your surroundings. It can harm your concrete, burn your pets' paws, and even kill them. When dogs walk on ice treated with salt-based ice melt, they can injure their paws. Severe health issues are caused by accidental ingestion of this toxic ice melt.
Traction Cleats and Shoe Chains
These add-ons go on top of your shoes and give you a grip when walking on ice.
These things, on the other hand, operate well on ice and snow. The downside is that they are difficult to put on. Steel chains, cleats, and spikes slide easily on tile and polished concrete, posing a slip-and-fall hazard.
Get ready for winter with the ONLY Pet Safe Ice Melt you can trust
Boots
There are a wide variety of snow or winter boots available in the market. How to know with which boots you can walk on ice? Well, snow boots with seam-sealed construction can protect your feet from the snow. The shoes provide traction in addition to the rubber composition they have to make it waterproof. These shoes are a pricey investment hence do not rush into buying them. The poor fit will render them entirely unusable.
Conclusion
Winters are not only about enjoying the festival season or warm cocoa. With the white snow comes attached the responsibility to keeping everyone safe and healthy. By using instant traction agents, you can not only keep your family safe but, your guests and pets will be out of danger from any slip and fall injuries.
Other Ice Melt Products
Safe Paw
The Original and the #1 Pet and Child Safe Ice Melt for over 20 years. Guaranteed environmentally safe – will not harm waterways and sensitive wetlands. Safe Paw can change how winter affects our planet.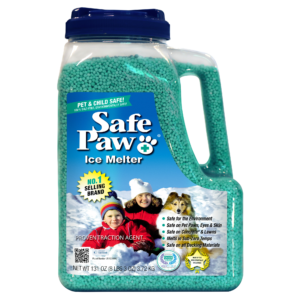 Safe Thaw
Imagine an ice melt you can put down and never worry about. It won't harm pets, kids and your property. That's Safe Thaw. Unlike anything else on the market, Safe Thaw can change how winter affects our planet.