Issues Homeowners Should Be Aware Of When It Comes To Winter Roof Damage
The winter season is upon us, which means that many people are turning their attention towards their roofs so they can prepare for what's to come. The good news is that there are some things you can do now to stay on top of potential problems. In this article, we'll go over some common issues homeowners face each year and show you how to spot them before they escalate into something more serious.
Get ready for winter with Traction Magic instant grip on snow and ice
Common Roof Damage From Snow And Ice
In the winter, cold air can cause water-damaged shingles to freeze, crack and break apart.
Shingles are made of asphalt. Asphalt shingles are vulnerable to cold temperatures because they're permeable—that means they allow water vapor (which contains heat) through their surface into the attic space below them where it's not insulated by insulation materials like fiberglass batting or cellulose insulation. 
Snow Piles On The Roof Could Lead To Ice Dams.
Ice dams can cause serious roof damage from snow and ice. If you have snow piled up on your roof, it's important to remove it before ice dams form. Snow piles can lead to ice dams because they provide a smooth surface for water (melted snow) to collect on top of the roof. The collected water then forms an ice dam that can cause structural damage and leaks in your ceiling or walls.
Get ready for winter with Traction Magic instant grip on snow and ice
Ice Dams Can Cause Serious Damage To A Home.
Ice dams are another winter roof issue that homeowners should be aware of. Ice dams form when snow and ice melt around the edges of your home, causing water to run down the walls and into your attic or crawlspace. If this happens repeatedly, you can experience leaks in your ceiling, rot in the framing and walls, mold growth and potentially more serious damage to your home if left untreated for long periods of time. Keep all your snow and ice removal products handy, such as salt-free deicers, snow shovels, snowblower, electric shovels, sturdy gloves, snow boots, etc. 

Snow Hanging Off Your Roof Is Bad News.
Hanging snow can also cause roof damage from snow and ice. The weight of the snow will cause the roof to buckle, making it more susceptible to cracking or rotting. If the damage is severe enough, water can leak into your home through the ceiling – or worse, onto cars or people below.
Get ready for winter with Traction Magic instant grip on snow and ice
Snow And Ice May Also Weigh Down Tree Limbs Onto Your Roof.
If you live in an area that gets a lot of snow and ice, it's important to check your roof regularly for damage. Snow can weigh down tree limbs onto your roof or create weak spots in the structure. As with anything else, make sure that trees are trimmed and gutters are clear of debris so water can easily drain away from the house.
Conclusion
If you see any signs of roof damage or roof leaks, call a professional immediately. If you're not sure where to start, check out our page on finding a reputable contractor .
Other Ice Melt Products
Safe Paw
The Original and the #1 Pet and Child Safe Ice Melt for over 20 years. Guaranteed environmentally safe – will not harm waterways and sensitive wetlands. Safe Paw can change how winter affects our planet.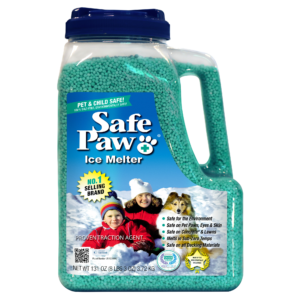 Safe Thaw
Imagine an ice melt you can put down and never worry about. It won't harm pets, kids and your property. That's Safe Thaw. Unlike anything else on the market, Ice and Snow Management You Can Trust.