Ice Melt Safe For Concrete And Pets: Finding The Ideal Combination 
As the mercury dips, and winter's icy grip takes hold, a ubiquitous question plagues homeowners and pet owners alike – "How can I safely defrost my sidewalks without causing any detriment to my beloved pets or precious concrete?" The ideal combination, you might find, lies in finding an "ice melt safe for concrete and pets."
Get ready for winter with Traction Magic instant grip on snow and ice
Unraveling The Ice Melt Conundrum: Ice Melt Safe For Concrete And Pets
Often, with winter comes treacherous icy paths. To mitigate the risk, one naturally leans toward ice melts. However, you mustn't disregard the effects of traditional ice melts on concrete or the potential dangers they pose to pets. Therefore, finding a solution that expertly navigates the icy terrains while causing zero harm to your concrete and furry companions is paramount.
Safe Thaw: The Savior Of Winter Woes
Enter Safe Thaw, an ice melt that is completely devoid of harsh chemicals that can erode concrete or prove harmful to your pets. Safe Thaw is an ice melt safe for concrete and pets. It provides a perfect counterbalance for maintaining winter safety without the unwanted side-effects. In the world of "bulk ice melt," Safe Thaw stands as an epitome of effective and responsible deicing.
Get ready for winter with Traction Magic instant grip on snow and ice
The Magic Of Traction Magic
Suppose you're caught off guard by an unforeseen ice storm, or perhaps the winter has been uncharacteristically relentless. Fear not, Traction Magic comes to the rescue. This product doesn't melt ice but it provides instant traction on all icy surfaces, ensuring you can walk your dog or drive your car without the fear of slipping.
You see, Traction Magic works its magic by absorbing the liquid layer present on the ice, while simultaneously providing grip with its granules. It's a product that's as friendly to your pets as it is to your concrete.

A Promise Of Quality And Safety
Traction Magic doesn't compromise on quality or safety. It's a product born in the USA, guaranteeing high-quality standards. Most importantly, it's 100% pet-safe; it doesn't harm their paws and is perfectly safe if ingested accidentally.
Your garden will also thank you. The promise of "won't harm plants" ensures your greenery is safe from chemical burns, often an unwanted outcome of using certain types of ice melts.
Looking Beyond The Winter: Protecting Your Assets
More than just melting ice, the longevity of your concrete surfaces is a key consideration. Thanks to its non-corrosive properties, Traction Magic is a friend of your infrastructure. It promises you traction without causing any property damage.
Get ready for winter with Traction Magic instant grip on snow and ice
In A Nutshell: Natural Is Best
In essence, the safest bet against the icy onslaught of winter lies in nature itself. A product like Traction Magic, made from a unique blend of natural volcanic rock and seven other minerals, provides an all-natural solution for winter safety.
So when winter rolls in, remember to choose an ice melt that's kind to your pets, friendly to your concrete, and effective against the ice. Choose wisely, and enjoy a safe and beautiful winter!
Other Ice Melt Products
Safe Paw
The Original and the #1 Pet and Child Safe Ice Melt for over 20 years. Guaranteed environmentally safe – will not harm waterways and sensitive wetlands. Safe Paw can change how winter affects our planet.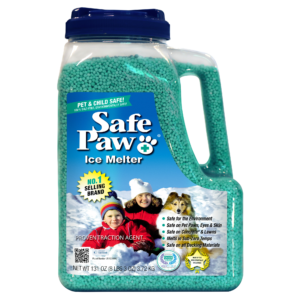 Safe Thaw
Imagine an ice melt you can put down and never worry about. It won't harm pets, kids and your property. That's Safe Thaw. Unlike anything else on the market, Ice and Snow Management You Can Trust.