Pet Safe Ice Melt Alternative
We all want to keep our pets safe, but we also want to make sure they don't get hurt by the ice melt we use in the winter. But how do you know which products are safe for your pet? We've compiled a list of pet-safe ice melt alternatives that won't harm your dog or cat when used as directed.
You'll want to avoid anything that contains salt or chemicals like sodium chloride, calcium chloride, or magnesium chloride. These are all very harmful to pets and can cause serious injury if ingested. You also want to be careful of products that contain abrasives such as traction sand in their ingredients (which is often used for traction). Pet-safe ice melts will not contain any of these substances and are therefore much safer for your pet's paws than traditional ice melters.
Even if you're willing to risk using traditional ice melt on your walkways in winter months, you should still look into alternatives that don't require chemicals at all—they're better for both people and pets!
Safe Thaw is an excellent alternative to salt and other chemical products. It's a bio-based product that is safe for all surfaces, including concrete, asphalt, and metal. Safe Thaw is also environmentally friendly because it doesn't produce harmful byproducts. This makes it a great option for homeowners who want to thaw their driveways without damaging them by using salt or other chemicals.

Pet-safe ice melt alternative- Traction Agents.
Traction agents and ice melt are two products that can help keep your driveway and walkways safe during the winter months. They each serve a different purpose and have distinct differences, so it's important to understand how they work and when you'd want to use them.
It's used on concrete walkways, steps, and driveways to keep them from getting slippery in wet weather. A traction agent can help prevent falls when entering or exiting your home.
When picking out a traction agent, you must choose one that won't harm your pets. The most popular choice is Traction Magic. It comprises natural volcanic rock and seven other minerals that are 100% environment-friendly. It does not contain any plastic or chemicals, making it safe for pets. It is not messy, does not stick to the shoes, does not block sewers or gutters, and seamlessly mixes with soil.
Get ready for winter with Traction Magic instant grip on snow and ice
Conclusion
We hope you've got enough options for pet-safe ice melt alternatives. There are many different kinds of materials to melt ice, each with its own benefits and drawbacks. We recommend using one that's free from chemicals and toxic elements.
Get ready for winter with Traction Magic instant grip on snow and ice
Other Ice Melt Products
Safe Paw
The Original and the #1 Pet and Child Safe Ice Melt for over 20 years. Guaranteed environmentally safe – will not harm waterways and sensitive wetlands. Safe Paw can change how winter affects our planet.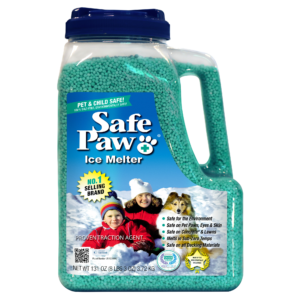 Safe Thaw
Imagine an ice melt you can put down and never worry about. It won't harm pets, kids and your property. That's Safe Thaw. Unlike anything else on the market, Ice and Snow Management You Can Trust.