5 Unknown Reasons Why You Should Use Traction Magic
Winter is one of the most beautiful seasons of the year, with snowscapes and chilly air. But every good thing has a bad side including the winter season.
Most individuals fear tripping on ice and injuring themselves. Adults and children alike might sustain significant injuries as a result of slipping. Vehicles that skid on ice have more significant repercussions than individuals who slide on the ice. Therefore, it is advisable to invest in a reliable traction agent to avoid slip and fall incidents and costly vehicle repairs.
Traction Magic is an easy-to-use traction agent that works well on ice and snow. In this article, we will discuss the benefits of Traction Magic and five reasons to use it.
5 Unknown Reasons Why You Should Use Traction Magic
1. Immediate effect:
When you use Traction Magic, it starts working right away. It can be used on almost any surface around your home, offices, including your driveway, sidewalk or deck to avoid slipping accidents.. For businesses, one of the most significant benefits of Traction Magic is that it reduces on-site accidents, injuries, and lawsuits. It helps in maintaining the safety and accessibility of your business throughout the winter.
2. Non-corrosive and non-conductive:
Traction Magic has no corrosive chemicals or colors and therefore it is not only non-corrosive but non-conductive also. That means it won't break your delicate gear or cause a short circuit in any of your expensive equipment. It's free of any corrosive salts, which destroy concrete walls, parking lots, and roadways.
3. The magic bucket:
It works instantly, unlike anything else, providing you the peace of mind you never realized you might have when walking on icy surfaces. The little dispenser bottle that comes with Traction Magic makes it simple to spread thinly. The bottle's handle allows you to disburse the contents by quickly flicking your wrist back and forth, leaving a thin layer. You can keep the Traction Magic Bucket in your vehicle as part of your emergency supplies.
4. Green Thumb:
Traction Magic is the only traction agent on the market that is safe for both pets and the environment. People, plants, children, pets, and the environment all suffer long-term consequences and harmful side effects from salt-based traction agents. On the other hand, Traction Magic acts as a fantastic soil conditioner and boosts tree and plant growth. Runoff from roads where Traction Magic was applied causes no hazard to water bodies and nearby flora and fauna.
5. Two ways of natural magic:
Traditional traction agents contain salt and other toxic elements that can cause long-term damage to your home. There are no hazardous salts in Traction Magic. It's made of purely natural crystals and works in two distinct ways: as an absorbent and as a gripper. As absorbent it removes all the liquid above the ice. The needle-like spikes of the crystals act as grippers, inserting themselves into the surface. Thus, reducing your risks of slipping.
Get ready for winter with the ONLY Pet Safe Ice Melt you can trust
Conclusion
Traction Magic is an ice traction solution for commercial and residential use that is readily available in the market. Its natural elements make it an environmentally friendly product dedicated to long-term sustainability and preventing slip and fall accidents at homes and workplaces.
Get ready for winter with the ONLY Pet Safe Ice Melt you can trust
Other Ice Melt Products
Safe Paw
The Original and the #1 Pet and Child Safe Ice Melt for over 20 years. Guaranteed environmentally safe – will not harm waterways and sensitive wetlands. Safe Paw can change how winter affects our planet.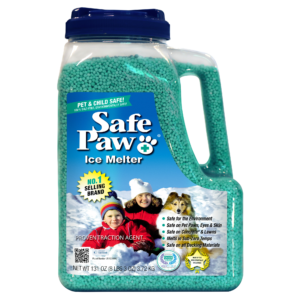 Safe Thaw
Imagine an ice melt you can put down and never worry about. It won't harm pets, kids and your property. That's Safe Thaw. Unlike anything else on the market, Safe Thaw can change how winter affects our planet.