Winter Boots Are Not Necessary To Walk On Icy Streets
Winter is the season for snow, ice, and slush. During this time of year, we all take extra care when walking on icy streets. Many believe they need winter boots or special footwear to walk on slippery surfaces. However, as it turns out, some much simpler methods can get traction for boots on slippery surfaces.
While it may be tempting to slip on a pair of winter boots, they are not necessary when walking in icy conditions. In fact, regular shoes with traction agents will provide enough traction to keep you from slipping.
Best Way To Get Traction For Boots
If you don't have winter shoes, try spraying your shoes with a traction agent to get traction for boots. A traction agent is a spray that makes your shoes more grippy and helps keep you from slipping on icy surfaces. It's safe to use on most footwear.
You'll want to use this instant traction agent before you head out on icy surfaces. The safest way to make your shoes less slippery is by using Traction Magic. This product is easy-to-use, it comes in a convenient portable canister, and it's available at most hardware stores or big box stores.
It provides traction. It comprises natural volcanic rock and seven other minerals that are 100% environment-friendly and can be used on your driveway or snow-covered roof.
It will ease your way through the slippery winter months while keeping your walkways safe from negative effects.
Does Kitty Litter Melt Ice?
Some people believe cat litter can be used in place of ice melt. While it may do the job of adding some traction, it is not an ice melt. Moreover, it's not the most environmentally friendly option. There are several disadvantages to using cat litter as an ice melt:
It will leave clay particles on your patio that aren't very easy to clean off.
If the clay isn't completely dry before you sweep it up, there might be some residual moisture left over that can cause problems later.
Get ready for winter with Traction Magic instant grip on snow and ice
Melting Ice Should Be Avoided At All Costs
Knowing the temperature can help you determine how easy or difficult it will be to cross-ice. When ice is melting, it becomes much slicker. To avoid injury to your hands and arms, avoid bracing yourself with outstretched arms. When walking in ice conditions, avoid using your phone.
I hope this article has demonstrated that with the right footwear and a little bit of caution, it is possible to walk on icy streets. Please be sure not to go outside without using a traction agent and wearing proper shoes, even if they are not designed specifically for winter conditions.
Get ready for winter with Traction Magic instant grip on snow and ice
Other Ice Melt Products
Safe Paw
The Original and the #1 Pet and Child Safe Ice Melt for over 20 years. Guaranteed environmentally safe – will not harm waterways and sensitive wetlands. Safe Paw can change how winter affects our planet.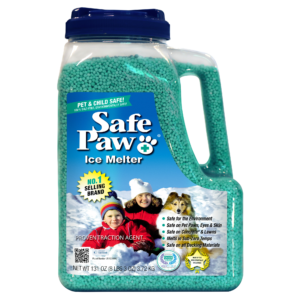 Safe Thaw
Imagine an ice melt you can put down and never worry about. It won't harm pets, kids and your property. That's Safe Thaw. Unlike anything else on the market, Ice and Snow Management You Can Trust.