Why Does Ice Melt Not Work On Black Ice – What To Do Instead?
Walking on thin ice is a challenge, and this is where traction agents come into play. While we are careful to spread ice melt or deice the surface before a snowstorm hits, there are times when ice melt does not work. So, why does ice melt not work on black ice? How can we safely walk on ice without falling or skidding?
Since black ice is invisible, it is not easy to see where it has formed unless you walk on it.
Ice melt does not work on black ice because it does not cut through the thin layer of ice. It can, however, break the bond with the surface to an extent but will have to be removed manually by chipping it away.
It is challenging to build traction without injuring yourself first since it is found more around overpasses, bridges, or shaded roadways.
What to do instead?
To safely walk on ice, we can –
You can wear snow boots, snowshoes, or regular sneakers with spikey stretchable bands that you can wear over any shoe to help you walk on thin ice without slipping.
You can use sand to create temporary traction, but it does not provide a long-term solution. Once the water dissolves, it mixes with it, creating a bigger mess.
You must take baby steps and short steps while walking on thin ice. To get a better grip, some people advise walking like a penguin or a duck, with toes pointing out slightly.
Do not lean forward or put your body weight in the front. Balance your hands and your body straight to avoid falling or slipping.
Does Walk On Ice help to safely walk on ice?
Yes, Walk On Ice is designed to build additional traction to help you walk on ice safely. It comprises 100% environment-friendly natural minerals that are pet safe and child safe too. You can sprinkle the formula randomly and walk on it without worrying about falling. It does not stick to the soles of the shoes and can be cleared off without any hassle.
Since it is safe for your vegetation, you can also sweep it off to the curb without worrying about damaging your foliage or your concrete. It works at any temperature and any thickness of ice, even black ice with superior absorbency and non-abrasive.
Get ready for winter with Walk On Ice instant traction on snow and ice
Conclusion
Walking on thin ice is not easy, and when it comes to black ice, the walk becomes even more difficult. However, with the help of advanced traction formulas, such as Walk On Ice, you can safely walk on ice or drive on icy roads without slipping, falling, or skidding.
Get ready for winter with Walk On Ice instant traction on snow and ice
Other Ice Melt Products
Safe Paw
The Original and the #1 Pet and Child Safe Ice Melt for over 20 years. Guaranteed environmentally safe – will not harm waterways and sensitive wetlands. Safe Paw can change how winter affects our planet.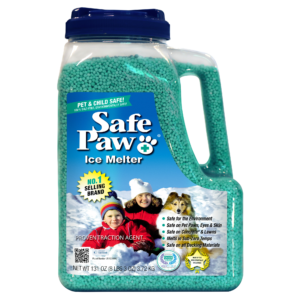 Safe Thaw
Imagine an ice melt you can put down and never worry about. It won't harm pets, kids and your property. That's Safe Thaw. Unlike anything else on the market, Safe Thaw can change how winter affects our planet.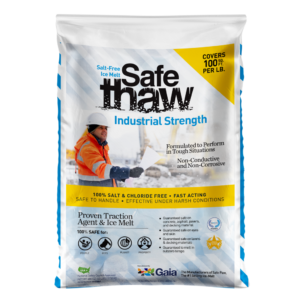 ---