Kitty Litter For Snow Stuck: A Winter Wonder
As the chill of winter descends and blankets the world in white, the slick, treacherous roads can render one paralyzed with dread, the fear of becoming immobilized a looming specter. We often find ourselves digging through the annals of conventional wisdom and folk remedies, yearning for a solution. Enter a most unexpected hero – kitty litter, commonly associated with our feline friends, but here, transforming into an invaluable asset. This begs the question: how does "kitty litter snow stuck" work?
Get ready for winter with Traction Magic instant grip on snow and ice
The Science Behind The Grit
So, what's the deal with kitty litter? Simply put, the gritty substance provides traction – an essential factor when you're stuck on an icy patch. The particles offer grip, acting as a temporary road mat, enabling your tires to bite into something more solid than the slippery ice. Kitty litter can indeed save the day when you're in a pinch, but it's not a long-term solution, and it certainly doesn't replace the need for pallets of ice melt.
When All Else Fails, Ice Melt Saves The Day
While kitty litter works in a pinch, it's always prudent to be prepared for all that Mother Nature throws our way. That's where Traction Magic comes into play. Providing instant traction on all icy surfaces, Traction Magic ensures that you stay safe on slippery surfaces – be it on sidewalks, steps, or even for your car.
Get ready for winter with Traction Magic instant grip on snow and ice
What Makes Traction Magic Unique?
Unlike traditional ice melts, Traction Magic is natural, made from a blend of volcanic rock and seven other minerals. This US-made ice melter is also 100% pet safe – it won't harm paws and is safe even if ingested.

A Friend To The Green
We're all striving to be kinder to our planet, and Traction Magic aligns with this goal. It's an ice melter that won't harm plants. Your grass, plants, and foliage are completely safe, negating the anxiety about potential property damage.
Get ready for winter with Traction Magic instant grip on snow and ice
Avoiding Corrosion
The non-corrosive attribute of Traction Magic marks it as a top-tier ice melter. While kitty litter can offer temporary assistance, it doesn't eliminate the ice, and salt-based melts can lead to corrosion. Traction Magic, however, provides the necessary grip without any risk of property damage.
In conclusion, as winters become more unpredictable and harsh, it's essential to be prepared. Whether you're using kitty litter in a pinch or relying on the tested power of Traction Magic, staying safe and mobile is key. Always keep a bag of your preferred grip-enhancer in your car, and remember: it's better to be safe than sorry. As we navigate the icy landscapes, knowing we have "kitty litter snow stuck" as an option, along with trusty Traction Magic, offers peace of mind during these frosty months.
Other Ice Melt Products
Safe Paw
The Original and the #1 Pet and Child Safe Ice Melt for over 20 years. Guaranteed environmentally safe – will not harm waterways and sensitive wetlands. Safe Paw can change how winter affects our planet.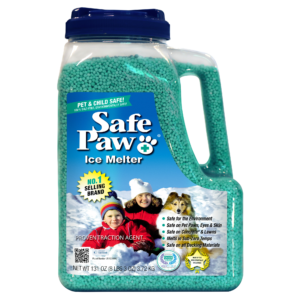 Safe Thaw
Imagine an ice melt you can put down and never worry about. It won't harm pets, kids and your property. That's Safe Thaw. Unlike anything else on the market, Ice and Snow Management You Can Trust.