Is Salt The Best Deicer?
Salt has been a go-to deicer for years. It seems like the obvious choice, but experts say you should use something else. Salt is corrosive, which means it can damage your concrete driveway or sidewalk over time. It also doesn't work well when temperatures are too low (below 15 degrees). Thankfully there are other less corrosive materials you can use as a deicer!
Salt Is NOT The Best Choice
Salt is messy because it makes white marks on your sidewalk, driveway, and deck—and those white marks are hard to clean up.
Salt is corrosive because when it gets wet, it turns into an acid that can eat away at concrete surfaces (and other materials). It also reacts with aluminum components of vehicles such as wheels or frames.
Salt can damage your shoes because its granules are rough on the surface of the sole. They can even break off pieces of rubber soles if they're not protected by steel toe caps. This will make them less comfortable walking around in cold weather conditions during the winter months.
Does Kitty Litter Melt Ice?
Some people believe they can use cat litter in place of ice melt. While it may do the job of adding some traction, it is not an ice melt. Moreover, it's not the most environmentally friendly option. There are several disadvantages to using cat litter as an ice melt:
It will leave clay particles on your patio that aren't very easy to clean off.
If the clay isn't completely dry before you sweep it up, there might be some residual moisture left over that can cause problems later.
Get ready for winter with Traction Magic instant grip on snow and ice
Better Ways To Solve Snow Problems
Traction Magic is specifically designed to solve this problem. Although, it's not an ice melt technically. It provides traction. It comprises natural volcanic rock and seven other minerals that are 100% environment-friendly and can be used on your driveway or snow-covered roof. 
It will ease your way through the slippery winter months while keeping your walkways safe from harmful effects.
Safe Thaw is a natural ice melt with special traction agents to keep your premises from becoming slippery. It is even helpful on black ice.
It comprises 100% naturally-procured ingredients, such as modified carbonyl diamide and special glycols with a liquid core that does not allow ice to stick to the surface if you pre-treat your concrete surface.
Get ready for winter with Traction Magic instant grip on snow and ice
Snow Cleats For Shoes
Many people believe that only wearing shoe spikes for snow is enough. The reality is they may not work at some places and there are hassles with wearing and removing the cleats.
Conclusion
It's winter, and snow has fallen on many parts of North America. In areas where this happens, salt is often used as a deicer to help melt the ice. So is salt the best deicer? The answer is: yes and no. Hope your pressing question— does kitty litter melt ice is answered now.
Other Ice Melt Products
Safe Paw
The Original and the #1 Pet and Child Safe Ice Melt for over 20 years. Guaranteed environmentally safe – will not harm waterways and sensitive wetlands. Safe Paw can change how winter affects our planet.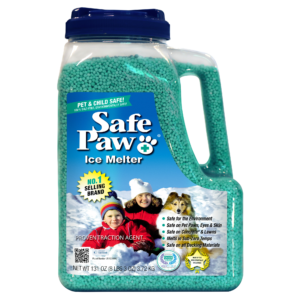 Safe Thaw
Imagine an ice melt you can put down and never worry about. It won't harm pets, kids and your property. That's Safe Thaw. Unlike anything else on the market, Ice and Snow Management You Can Trust.