How To Make Wooden Stairs Less Slippery This Winter?
Whether it's sitting outside in the sun to soak up the rays or standing around covered up with a hot beverage to take in the beauty of the snow, everyone enjoys spending time relaxing on the deck at any time of year. However, as we enter the Autumn season, it's crucial to remember to keep deck steps non-slippery for family and friends.
It's critical for all homeowners to bear in mind that everyone, from your spouse and children to your furry family pet, is safe when walking on snow and ice, especially on slippery wooden stairs.
Prevent The Formation Of Ice 
While it may seem obvious and time-consuming, the best approach to prevent ice from forming on wooden steps is to clear snow as soon as it falls. While this isn't a permanent solution, plan to shovel or sweep the deck stairs frequently or until they come if you're expecting visitors. In addition, it will ensure that the stairwell remains open and accessible to all. But do you have enough time and energy to do this tiring task many times a day?
Agent Of Traction
When it's freezing outside, wooden steps can become a tripping hazard. Clear snow from your steps as soon as possible after it falls to avoid slipping. Use a natural and quick traction agent to improve traction on wooden steps. You can use a mineral-based traction agent; it is safe for people, pets, and surfaces. Walking on snow and ice becomes a non-slip winter activity with this easy-to-carry and use traction agent.
Get ready for winter with Walk On Ice instant traction on snow and ice
Install Tread Strips 
Rubber or other synthetic tread strips are an excellent solution to keep your wooden steps free of ice. To prevent the strips from dislodging during use, tack them to your wooden steps.
Like all ice-control techniques, tread strips function best when you stay proactive. Remove snow off steps as soon as possible after a snowstorm. When snow is allowed to settle and compact, slick conditions can develop, so shovel or sweep your steps as quickly as possible after a snowstorm. Even after using tread strips, you need to be ready with your shovel.
Using An Ice Melt
You can use a de-icer to break up stubborn ice and snow. Make sure, however, that the one you choose will not ruin your steps or deck. Rock salt and other common salts are slow. These ice melts not only hurt the wood, neighboring plants, your pets' paws, and your patio but also aren't very effective. Calcium chloride ice melt works at low temperatures, but it's a corrosive product that'll ruin your wooden steps.
Get ready for winter with Walk On Ice instant traction on snow and ice
Use A Towel 
One essential household item, a towel, can make iced-over wooden steps safe. Just place a towel on top of slick steps.
It's better to clean the snow and ice off the steps before using this procedure. Using a towel as an impromptu tread strip in icy situations keeps both humans and animals safe. But it is not a foolproof anti-slip solution.
Conclusion
Walking on clear ice or slippery surfaces is always risky. But you can avoid this risk by using an instant and natural traction agent like Walk On Ice. It is easy to carry and gives you instant traction.
Other Ice Melt Products
Safe Paw
The Original and the #1 Pet and Child Safe Ice Melt for over 20 years. Guaranteed environmentally safe – will not harm waterways and sensitive wetlands. Safe Paw can change how winter affects our planet.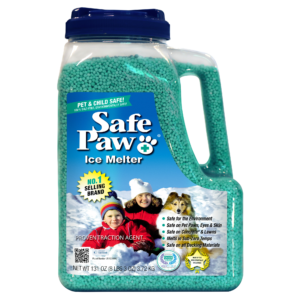 Safe Thaw
Imagine an ice melt you can put down and never worry about. It won't harm pets, kids and your property. That's Safe Thaw. Unlike anything else on the market, Safe Thaw can change how winter affects our planet.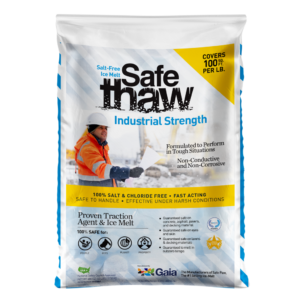 ---