5 Science Approved Tips For Walking Across Ice
Pedestrians will still encounter some slick surfaces when venturing outdoors in the winter, no matter how well the snow and ice are cleaned from parking lots and sidewalks. In rainy and cold weather, these surfaces can become extremely slippery. Everyone should be aware of these dangers at all times and understand the winter safety tips for walking on snow and ice.
5 Science Approved Tips for Walking Across Ice
Move Carefully And Slowly
Instinct and common sense kick in when you approach the slippery surface, informing us that sprinting across an ice-covered driveway is nearly impossible. Walkers should also lean slightly forward and keep their feet flat on the ground. It will assist you in keeping your center of gravity as close to your feet as possible. When walking, keep your head up. Take fewer steps and shuffle for stability when walking on ice.
Use Instant Traction
By using an instant traction agent, you can safely walk on any surface without worrying about tripping and slipping. Walk on ice is an easy-to-use and safe instant traction agent. It comes in convenient disposable canisters that can be taken with you wherever you go. You can use it on tires or sidewalks and steps as an instant traction agent.
The 'absorbers' drain the water, making the ice less slippery and creating a non-slip surface. While the 'grippers' grip the ice, providing traction for you and your family. You can use it on any surface surrounding your house, including your driveway, sidewalk, and patio.
Get ready for winter with the ONLY Pet Safe Ice Melt you can trust
Melting Ice Should Be Avoided At All Costs
Knowing the temperature can help you determine how easy or difficult it will be to cross-ice. When ice is melting, it becomes much slicker. To avoid injury to your hands and arms, avoid bracing yourself with outstretched arms. When walking in ice conditions, avoid using your phone.
Whenever Possible Go Around Slopes And Stairs
You should also be aware of the surface you'll be walking on.
Stairs can make navigating ice even more dangerous, but we understand that they aren't always avoidable. When dealing with icy steps, utilize handrails, keep your hands out of your pockets, and proceed gently.
Appropriate Footwear For Walking On Ice
You can use a shoe with large treads or raised patterns when walking on ice to help your feet maintain their grip on the ground. Rubber soles also assist you to keep your balance.
The best snow and ice walking shoes have waterproof soles. Look for good insulation within the shoe. The best footwear for walking on ice will feature water-resistant insulation linings to keep warmth locked in.
Get ready for winter with the ONLY Pet Safe Ice Melt you can trust
Conclusion
It may seem obvious, but choosing a safe path is the best place to start. Give yourself lots of time and choose a route where you know you'll have plenty of room on the pavement. Keep your traction agent with you throughout the season and use it whenever you encounter any slippery icy surface.
Other Ice Melt Products
Safe Paw
The Original and the #1 Pet and Child Safe Ice Melt for over 20 years. Guaranteed environmentally safe – will not harm waterways and sensitive wetlands. Safe Paw can change how winter affects our planet.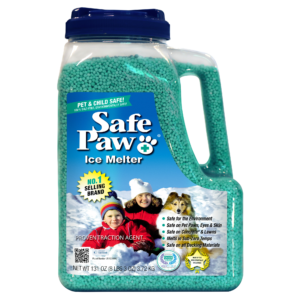 Safe Thaw
Imagine an ice melt you can put down and never worry about. It won't harm pets, kids and your property. That's Safe Thaw. Unlike anything else on the market, Safe Thaw can change how winter affects our planet.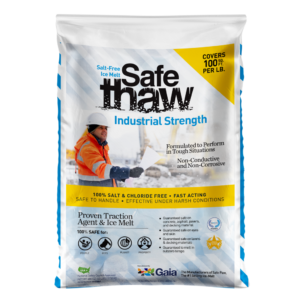 ---