What To Use In Parking Lots To Avoid Slip And Fall
During the winters, walkways, parking lots, and steps around your business premises become slippery. The slippery ice layer can cause slip-and-fall accidents that can result in some serious injuries to the person and can pose an expensive legal claim on the business owners. As a business owner, it's your responsibility to keep your premises free from any danger and provide a safe passage for visitors and employees. Moreover, as mentioned above, these accidents on your property can result in personal injury lawsuits. Therefore it is better to take precautions and avoid them.
Removing the treacherous slippery ice layers from the parking lot is therefore not an option but the responsibility of business owners. Business owners should have an efficient snow-removal program in place before the arrival of winters.
Here Are Few Things To Consider In Your Snow Removal Plan:
When will you remove the snow – It's always a good decision to remove freshly fallen snow. Don't wait for the last moment to take out your snow shovel, or you will make your work harder and might injure yourself. Instead, shovel snow as it lands, as often as once every hour during heavy snowfall, for faster and safer removal.
How will you remove the snow – For larger parking areas, using snow blowers can save you a lot of time and effort. If you have to remove snow from steps or sidewalks then only a shovel might do the work.
What you will do to get rid of ice and improve traction – During the day snow melts due to the rising temperature, but towards the evening it again starts to freeze. The refreeze ice layer is the most dangerous and slippery one. The excess watery layer on the top surface of the ice is the primary reason for slip accidents.
Therefore, after shoveling off the snow, it is required that you spread some organic salt free deicer in the parking lot and walkways. Deicer or ice melt forms a solution after mixing with water and the formed solution has a very low freezing point and doesn't convert into ice easily. It is better to go with environmentally friendly deicing in place of chloride-based ice melts like rock salt. Rock salt damages your concrete and is also injurious to kids, pets, and nearby plantations.
Ice melts take time to work, but what if you need immediate traction in the icy parking lot. You can go with traction agents. These traction agents absorb excess water and improve friction between the shoes and ice layer, thereby preventing dangerous slip accidents. One such effective traction agent is Traction Magic. Traction Magic is completely natural and efficient. It comes in different packaging ranging from 15 – 45 lbs. Regarding post-cleaning exercise, you can simply broom it into your garden as it is 100% natural and is even good for your plants.
You can also use other natural traction agents like kitty litter, sand, sawdust. But their drawback is that they are not that effective in providing the required traction and are a mess to clean afterward.
Get ready for winter with the ONLY Pet Safe Ice Melt you can trust
Conclusion
As a business owner, it is a disaster to watch anyone getting hurt on your premises due to slip-and-fall accidents during wintertime. There is a lot you can do to avoid these incidents. Use proper methods and products to remove ice and improve traction for walking.
Get ready for winter with the ONLY Pet Safe Ice Melt you can trust
Other Ice Melt Products
Safe Paw
The Original and the #1 Pet and Child Safe Ice Melt for over 20 years. Guaranteed environmentally safe – will not harm waterways and sensitive wetlands. Safe Paw can change how winter affects our planet.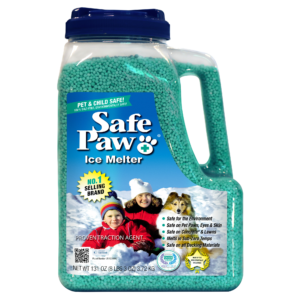 Safe Thaw
Imagine an ice melt you can put down and never worry about. It won't harm pets, kids and your property. That's Safe Thaw. Unlike anything else on the market, Safe Thaw can change how winter affects our planet.