6 Interesting Ways To Use Traction Magic.
With winter months comes the ice and snow followed by icy sidewalks and slick parking lots. As a home or business owner, you are probably aware of the increased perils of winter weather and the risk associated with slippery sidewalks and walkways. Falls that appear to be harmless can sometimes lead to serious health issues.
But for every problem, there is a solution. Traction Magic is the answer to such slip and fall woes. It uses a unique mix to provide maximum traction on slick ice. The use of Traction Magic is not limited to sidewalks but can also be used on driveways, roofs, barns, play areas, and many more places.
Here are the six interesting ways to use Traction Magic.
1- Around your home
It is crucial to keep Traction Magic accessible this winter before the snow starts accumulating around your turf. When you use Traction Magic, it starts working right away. It prevents falls on slick surfaces around your home, including your driveway, sidewalk, deck, and even your roof.
Traditional traction agents contain salt and other toxic elements that can cause long-term damage to your home. Whereas, use of Traction Magic provides you safety while also taking care of your property.
2. Around your business
Having a business during the winter months might be stressful due to slip and fall possibilities around your establishment. With Traction Magic, you won't have to be concerned about this common winter woe since it keeps your business safe and accessible during winter. Thereby reducing the chances of on-site injuries, accidents, and lawsuits.
Get ready for winter with the ONLY Pet Safe Ice Melt you can trust
3. While traveling
Driving and becoming stranded on an icy surface with your car tires spinning owing to a lack of traction is a terrifying prospect. On the snow or the ice, traction for tires is required for a smooth ride. When you get to your destination in an icy condition, having Traction Magic in your vehicle provides you with stable footing.
4. Around livestock
Look no further if your livelihood revolves around cattle, and you're not sure how to keep ice, snow, and sleet from causing slips and falls this winter. With Traction Magic, you are sure that your work around the Ranch will be safe in winter. It creates immediate traction to keep you and your animals safe from falling.
5. Around the barn
If you have Traction Magic, trail riding and horseback riding don't have to be put on hold this winter. All animals, including horses, are safe when you use Traction Magic. Apply it to the walkways of your barn stalls, and over the riding routes, you are all set for riding.
6. In your yard
You do not need to lock your kids and pets inside and stop them from having a run in the snow. You can use Traction Magic in your yard as it is safe for pets and kids and let them have fun with their snowman. Even if Traction Magic residue is left behind, it benefits the environment by acting as a soil conditioner and promoting the healthy growth of trees and plants.
Get ready for winter with the ONLY Pet Safe Ice Melt you can trust
Conclusion
The good news is that Traction Magic is safe for both humans and pets, as well as the environment. Other traction agents contain dangerous chemicals and corrosive salts. These corrosive salts can harm concrete walls, parking lots, and driveways. Unlike these traction agents, Traction Magic does not corrode your property. Hence, you can use Traction Magic in several ways and in a lot of places to avoid winter injuries.
Other Ice Melt Products
Safe Paw
The Original and the #1 Pet and Child Safe Ice Melt for over 20 years. Guaranteed environmentally safe – will not harm waterways and sensitive wetlands. Safe Paw can change how winter affects our planet.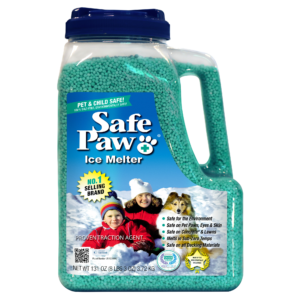 Safe Thaw
Imagine an ice melt you can put down and never worry about. It won't harm pets, kids and your property. That's Safe Thaw. Unlike anything else on the market, Safe Thaw can change how winter affects our planet.