How To Choose Traction Agent For Your Business
Getting rid of the treacherous and slippery layer of ice in winters is a major challenge. It is always dangerous to walk on the ice as it leads to slip and fall accidents. Sometimes these accidents can cause severe injuries like bone fractures or head injuries. Therefore, it is your responsibility to provide your store customers or apartment residents a safe passage by getting rid of the snow from the driveways, pavements, sidewalks, and steps.
Many businesses use ice melt but it takes time to work. But, if you need immediate traction on the ice surface to provide a safe walking path to your customers or residents, you should go with natural traction agents. Traction Magic is one such natural traction agent that absorbs excess water from the ice layer and increases the friction to walk safely on ice. There are other traction agents in the market like sand, kitty litter, or sawdust to choose from.
What To Look For While Choosing Your Ice Melt
Here are some of the factors you must consider while choosing your traction agent:
Your traction agent should act immediately. Traction Magic starts working right away as soon as you use it on the slippery surface. It can be used on any surface around your parking lots, roadways, offices, and sidewalks to avoid any slip and fall accidents.
Many traction agents use chemicals in their blend that makes them corrosive. Unlike other traction agents that include hazardous chemicals and caustic salts that can destroy roadways, parking lots, etc., Traction Magic doesn't is non-corrosive and harmless to your driveway and machinery.
Portable For Emergency Supply:
It should be easily portable for convenient use. You can easily carry the Traction Magic bucket inside your vehicle. Whenever you find difficulty in moving your car ahead because of the icy surface on the road, you can simply spread this traction magic on the road and get going.
Get ready for winter with the ONLY Pet Safe Ice Melt you can trust
Traction Magic is the traction agent that provides tire grips for snow during the winter season. It gives you instant results while moving on snowy roads.
Traction Magic is composed of natural geo crystals and consists of two types of granules. The absorber granules maximize the absorption of the free water on the surface of the ice, and the gripper granules with their spiky structure bury themselves into the ice and create better traction for walking.
Plants and the environment suffers long-term side effects using traditional salt-based hazardous traction agents. On the other hand, Traction Magic acts as the best soil conditioner, boosting tree and plant growth wherever applied.
Get ready for winter with the ONLY Pet Safe Ice Melt you can trust
Other Ice Melt Products
Safe Paw
The Original and the #1 Pet and Child Safe Ice Melt for over 20 years. Guaranteed environmentally safe – will not harm waterways and sensitive wetlands. Safe Paw can change how winter affects our planet.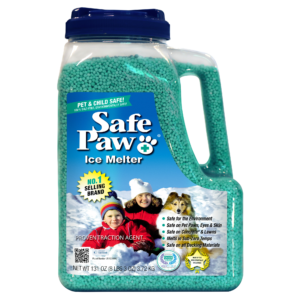 Safe Thaw
Imagine an ice melt you can put down and never worry about. It won't harm pets, kids and your property. That's Safe Thaw. Unlike anything else on the market, Safe Thaw can change how winter affects our planet.