How To Add Traction On Large Industrial Area- Best Alternative
While the specifics of winter weather differ by location, as winter approaches, every business faces new dangers. Snow, rain, freezing temperatures, and enhanced fire dangers are just a few of the concerns faced by businesses every winter because of blizzards and snowstorms.
Whether you run a small business or a corporation, being prepared for winter weather is critical to avoid potential delays. You may reduce the impact of such occurrences on your employees and customers by preparing for the myriad hazards of winter weather with the help of natural deicer and traction agents.
Blizzard Preparation
When it comes to cold weather, there are several risks that businesses must be aware of. When winter approaches, businesses face an increased risk of structural stress and damage, dangerous fire activity, and slip and fall injuries, to name a few.
You can delegate the responsibility of making premises safe and secure before the storm comes knocking at your door. You can also take the help of a third party to complete safety procedures.
Prepare a Strategy for Each Threat
Create a clear action plan for each winter weather hazard you may encounter to avoid ambiguity and keep everyone on the same page.
Make your Locations More Secure
Regular inspections and maintenance of your offices, supplies, and equipment should be part of your winter storm preparations.
Aside from prepping your facilities for winter, you'll also need to ensure that your personnel is adequately prepared and have the equipment and resources they need to keep safe.
How To Add Traction In A Large Industrial Area?
Traction Magic
Traction Magic is a product that won't keep you waiting long. There are no hazardous salts in Traction Magic. It's constructed entirely of natural crystals and works in two ways: they act like sponges, sucking up all the liquid present above the ice. It makes the surface less slippery by mattifying it. The needle-like spikes of the crystals act as grippers, embedding themselves into the surface.
Get ready for winter with the ONLY Pet Safe Ice Melt you can trust
Traction With Kitty Litter
Unlike ordinary salt-based ice melt, it does not harm people's skin and is environmentally friendly. It absorbs moisture and aids traction, although it is ineffective on all surfaces and in all climates. Furthermore, when wet, it transforms into a slick mush that requires extensive cleaning.
Sand
Sand improves traction and prevents slipping on roads and walkways. It's spread on top of ice and snow, creating an unsightly mess. When the snow or ice melts, it may leave more residue behind, requiring additional cleanup. Hence, it is not the right choice for large industrial areas.
Rock Salt
It is a cheap and readily available option for industries. But remember that it may give you traction at the cost of your premises. It is highly corrosive and can damage your concrete, parking, and even metal railings. It can also corrode your machinery. That is why people are opting for natural deicer rather than going for this toxic ice melt solution.
Conclusion
Employee safety, labor productivity, and corporate operations can all be affected by the cold. It doesn't have to be that way, though. The good news is that you can anticipate and prepare for the dangers of cold weather by using the right products to keep your premises and personnel safe and healthy.
Get ready for winter with the ONLY Pet Safe Ice Melt you can trust
Other Ice Melt Products
Safe Paw
The Original and the #1 Pet and Child Safe Ice Melt for over 20 years. Guaranteed environmentally safe – will not harm waterways and sensitive wetlands. Safe Paw can change how winter affects our planet.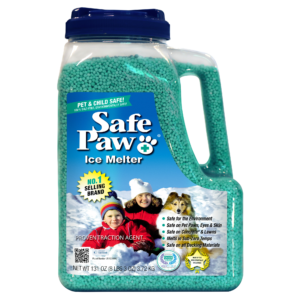 Safe Thaw
Imagine an ice melt you can put down and never worry about. It won't harm pets, kids and your property. That's Safe Thaw. Unlike anything else on the market, Safe Thaw can change how winter affects our planet.