The Best Alternative Of Salt And Ice Melt
With all the excitement of winter comes the challenging part of removing snow from our facility. The majority of falls happen due to walking on clear ice at or near home, on flat but slick terrain.
Hence, we need to gear up with our snow removal solutions to fight the winter woes.
So, you might have heard of rock salt and ice melt as the common ways of clearing ice. But that's not the best decision you would make. Let's understand why.
Why You Should Never Use Rock Salt And Ice Melt-
The difference between a rock salt and an ice melt lies in its mix.
Rock salt is basically sodium chloride. Almost all ice melts in the market contain chloride in one or the other form like- sodium chloride, calcium chloride, magnesium chloride, etc. Mostly, they are a blend of sodium chloride and other minerals like magnesium and calcium.
These chemicals can corrode the concrete and weaken the rooftops. They can also be harmful to kids, pets, and vegetation. They are capable of causing rashes, irritation, and dryness to paws and skin, as well as inflammation and stomach pain when mistakenly ingested. These salt-based compounds tend to accumulate in nearby run-offs and streams.
In many countries, road salt is listed as a toxic substance. Chloride is toxic to aquatic life, and even low concentrations can produce harmful effects in freshwater ecosystems.
Get ready for winter with the ONLY Pet Safe Ice Melt you can trust
What To Use
You can avoid using salt and ice melt by adopting alternative methods. Here are some of the ways that can help you in walking on ice safely. Let's check them out-
Sand or Kitty Litter
You can use sand, kitty litter, or any other traction agent to add friction and prevent slipping. By adding traction, you can immediately access the road or sidewalk. Using traction agents helps, but you may still have to clean the driveway post melting of the ice as it may stick to the bottom of your shoes and create a mess.
Spiked Boots
They are either spiked boots or cleats that connect to footwear or accessories that attach to footwear. On the plus side, these items work well on ice and snow. They have the disadvantage of being difficult to put on. Moreover, many studies report that 90% of them failed when tested and don't serve the purpose.
Walk On Ice
Walk on ice is a traction agent composed of 100% natural crystals. It uses a dual safety approach to ensure quick traction on snowy terrain and does not add any harmful chemicals or salts to our environment.
First, the absorbers immediately suck up the water layer that forms on the surface, making it slippery. Then grippers with their spikes securely hold the ice giving you instant traction. It makes walking on clear ice a breeze and works effectively even on black ice.
Conclusion
The solution to your slick porch and walkways troubles could be right in your handbag now. So, why go for something messy and arduous to clean when you have a clean and easy traction medium in your reach.
Get ready for winter with the ONLY Pet Safe Ice Melt you can trust
Other Ice Melt Products
Safe Paw
The Original and the #1 Pet and Child Safe Ice Melt for over 20 years. Guaranteed environmentally safe – will not harm waterways and sensitive wetlands. Safe Paw can change how winter affects our planet.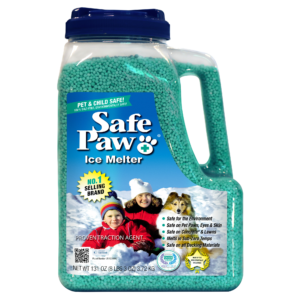 Safe Thaw
Imagine an ice melt you can put down and never worry about. It won't harm pets, kids and your property. That's Safe Thaw. Unlike anything else on the market, Safe Thaw can change how winter affects our planet.