Natural Ice Melt For Traction On Ice
We all love the beauty of winter with its white frosty snowflakes. Snowfall on a beautiful day is a delightful experience. Nevertheless, when these snowflakes interact with their environment to form ice on the road and sidewalks, they could constitute a nuisance.
Ice accumulated on a sidewalk can lead to a very unpleasant experience. Slipping and falling is just one of the hazards of ice. Each year, more than 800,000 people are hospitalized due to a fall injury. Many of these from falling on slick surfaces caused by ice.
This raises the need for ways to produce traction on ice and ice melts that ensure we do not slip while walking on ice.
How Typical Ice Melts Work
Ice melts are best applied just before a snowstorm. The ice melt works by reducing the freezing point of the water. Many ice melts are salt-based. As soon as they are exposed to ice or snow, form a brine, which in turn melts the ice rapidly. With their efficiency in melting ice, they reduce the accumulation of ice and snow. Works great right? Actually, the salt used in ice melts is harmful to our environment.
Alternative Ways of Dealing with Ice
Since the conventional means of handling, ice has proven to be harmful to mother Earth and unsafe for naturally occurring habitats, the need for an alternative cannot be overemphasized. Companies, like Gaia, have taken on the environmental challenge to come up with products that prevent us from slipping and falling without damaging our environment.
The Traction Technique
While other melt agents have tried to melt the ice with salt bases, Traction Magic changes the approach to create traction on ice. Traction Magic creates enough friction to hold cars, children, and pets in place as they move on ice.
Traction Magic employs crystal granules that absorb water from ice and grips into position to secure slippery surfaces. These granules contain absorbers that take in the liquid on the ice. Then the grippers, another constituent of the granules fix themselves in the ice with their grip capability. This technique employed by Traction Magic guarantees an instant grip for icy surfaces. Traction Magic does not use any chemicals or salts that are detrimental to our ecosystem. It is a more functional approach to preventing slipping on ice that has been proven cost-effective and 100% safe for the Earth's sustainability.
Advantages of Traction Magic Over Conventional Salt-Based Ice Melts
1. Sustainability
Traction Magic makes use of a more functional method for reducing slipping on ice without introducing salt-bases and chemicals that are harmful to the environment. This makes it an environmentally friendly product dedicated to sustainability.
2. Solid Natural Base
Traction Magic is manufactured with solid natural components, consisting of absorbers and grippers that occur naturally. Therefore, they do not cause harm to adults, children, pets, or our planet as a whole.
3. All Cold Weather Application
Traction Magic works in all temperatures because it does not combine with the ice. It includes natural ice melt for traction on ice to stick to the ice and give you grip as you, your vehicle, and even your pets move across the ice. Talk about productivity!
Other Ice Melt Products
Safe Paw
The Original and the #1 Pet and Child Safe Ice Melt for over 20 years. Guaranteed environmentally safe – will not harm waterways and sensitive wetlands. Safe Paw can change how winter affects our planet.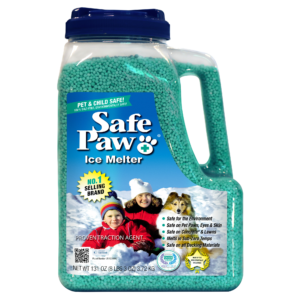 Safe Thaw
Imagine an ice melt you can put down and never worry about. It won't harm pets, kids and your property. That's Safe Thaw. Unlike anything else on the market, Safe Thaw can change how winter affects our planet.