This Is How I Prevented Shop Visitors From Slipping At My Premises.
Every year, over a million Americans, suffer some snow and ice-related injury either by falling, slipping, or skidding on icy roads. It is a potent problem, and despite so many precautions, tips and tricks, the problem does not seem to disappear anytime soon. While you may get ice spikes for tires to avoid skidding while driving, there is little you can do when you step out of the car. You might have a sudden slip, leaving your head or arms injured, right?
However, when speaking with a shop owner, she shared something precious with us.
'I have been running this shop for the past five years, and we have been doing well so far. Every winter, we take extra precautions to maintain our premises, sidewalks, and the flooring inside our store. We have been using different ice melt around our premises, ranging from calcium chloride to potassium chloride, but the result is almost identical.
The ice melts, it becomes slush after some time, and then we have to sweep it away near the drains or onto our landscape. Most of the time, our landscape has to bear the brunt of the ice melt as they wilt and turn a little whitish.
However, we realized while ice melt was a possible way to battle winter woes, it was not the only solution. We used traction agents to maintain the anti-skid element in front and around our shop to ensure our visitors do not fall. We used sawdust, sand, and even kitty litter! While they are relatively cheap and a substitute for each other, the heap on the drains, clogged them and ultimately we had to bear the cost of getting it cleared.
It is when we came across Traction Magic via an article online. We were researching a product that helped to solve our traction in snow problem quickly. And we were lucky to have come across this!
Traction Magic works like magic on black ice and any other icy surface. Spread the mixture evenly on the surface and see the magic take place. It immediately built traction in snow to help us walk without worrying. Our customers also felt the same ease when they walked into our store. We could do 20% more business in winters because of creating this safety net with Traction Magic.'
Get ready for winter with the ONLY Pet Safe Ice Melt you can trust
Conclusion
There is nothing more important than to protect the interests of your customers and clients visiting your retail outlets. Whether you are a shop owner, restaurateur, café owner, or facility manager, you need to maintain traction in snow at all times. Even though you have ice spikes on tires, ensuring that your surface is safe to walk is essential.
With 100% environment-friendly, salt-free, and chloride-free solution, Traction Magic helps you walk without the fear of falling. With natural mineral-infused ingredients, you know your premises, environment, and vegetation is safe hands
Get ready for winter with the ONLY Pet Safe Ice Melt you can trust
Other Ice Melt Products
Safe Paw
The Original and the #1 Pet and Child Safe Ice Melt for over 20 years. Guaranteed environmentally safe – will not harm waterways and sensitive wetlands. Safe Paw can change how winter affects our planet.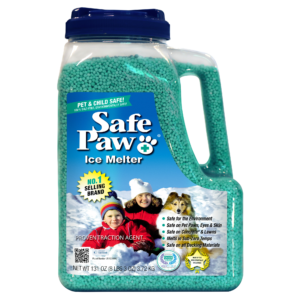 Safe Thaw
Imagine an ice melt you can put down and never worry about. It won't harm pets, kids and your property. That's Safe Thaw. Unlike anything else on the market, Safe Thaw can change how winter affects our planet.