Blizzard Damage – How To Stay Safe At Home
Blizzards and snowstorms can result in hazardous winter conditions with high-speed winds knocking out power lines, leaving you without heat or communication. So how to prepare for a blizzard at home?
Prepare ahead of time and follow a simple checklist to protect your family and employees from severe weather conditions. So, here are some tips to get you prepared. Snow blizzards have become a common phenomenon during the winter season. Blizzards cause low visibility, and driving around becomes difficult.
How To Prepare For A Blizzard At Home
Here is a checklist that can help you store some essentials ahead of time to face the upcoming snow blizzard.
Some essential items that can help you during the storm include:
1. Stock up on food: Stock up some essential food items before the storm. People generally line up in front of grocery stores a night before the blizzard. You cannot rely on restaurants or food delivery services to cater during the storm. Most restaurants may close early or forgo delivery to let workers get home.
2. Stock essential medication: Check your medicine stock and refill the important medications that your family needs within the next 7-10 days. Also, stock emergency first aid and trauma kits. It's a smart move to keep an emergency kit stocked with acetaminophen, ibuprofen, and Benadryl since drugstores either get closed during a snow emergency or operate with limited hours.
3. Shovels and snowblower: You need to shovel the thick layers of snow deposits after the snowstorm from your driveways and sidewalks. If you have a larger area to clean, you may need a snowblower to make your task easier. Make sure the snowblower is filled with gas and functioning properly.
4. Ice melts and Traction agents: After shoveling the snow, to prevent the formation of a treacherous layer of slippery ice, you have to spread ice melt on the sidewalks, parking lots, in front of the stores, or residential apartments. While selecting the ice melt make sure you are not going with a chloride-based ice melt like rock salt. These chloride-based salts can cause severe damage to your concrete, corrode plant & machinery, contaminate the water, destroy the nearby plantation, and are very harmful to pets and kids if it gets ingested by them.
Get ready for winter with the ONLY Pet Safe Ice Melt you can trust
In place of chloride-based salts, you can use environment and pet-friendly ice melt Safe Paw from Gaia Enterprises.
However, ice melt takes time to work and melt the ice layer. If you need immediate traction on the ice surface to provide a safe walking path to your customers or residents, you should go with traction agents. Traction Magic, scientifically prepared and marketed by Gaia Enterprises is one such natural traction agent that absorbs excess water from the ice layer and increases the friction to walk safely on ice.
Traction Magic can also provide the required traction for your car to cross the slick areas like slippery inclines of driveways and hilly regions.
Conclusion
Stock essentials in the house like food, medicine, batteries, and other supplies before the onset of the blizzard. Outside movement becomes restrictive, and even emergency services are sometimes difficult to access during a severe snowstorm. Hence, make your preparation to keep yourself and your family safe.
Get ready for winter with the ONLY Pet Safe Ice Melt you can trust
Other Ice Melt Products
Safe Paw
The Original and the #1 Pet and Child Safe Ice Melt for over 20 years. Guaranteed environmentally safe – will not harm waterways and sensitive wetlands. Safe Paw can change how winter affects our planet.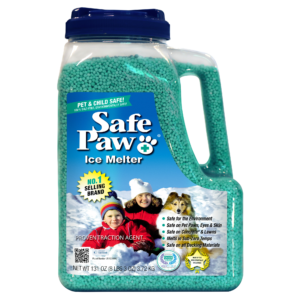 Safe Thaw
Imagine an ice melt you can put down and never worry about. It won't harm pets, kids and your property. That's Safe Thaw. Unlike anything else on the market, Safe Thaw can change how winter affects our planet.