Traction Agent vs Rock Salt Which Is Best?
In winters the most undesirable task is to remove snow in the extremely cold weather outside. Removing snow and giving safe passage to your family and visitors is essential after a snow storm. Fresh snow melts during the daytime and freezes back into an ice layer in the evening. The treacherous icy layer thus formed is very slippery and is the main cause of major slip and fall accidents. Sometimes these accidents can be very dangerous and might cause bone fracture or injury to your head.
Therefore if you're still struggling to choose the best method to walk on ice without slipping then let's get some winter lessons on how to walk on ice.
Let's compare traction agents and rock salt and see which is the best option for you.
Other Ice Melt Products
Safe Paw
The Original and the #1 Pet and Child Safe Ice Melt for over 20 years. Guaranteed environmentally safe – will not harm waterways and sensitive wetlands. Safe Paw can change how winter affects our planet.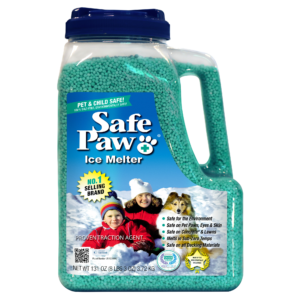 Safe Thaw
Imagine an ice melt you can put down and never worry about. It won't harm pets, kids and your property. That's Safe Thaw. Unlike anything else on the market, Ice and Snow Management You Can Trust.