What To Use On New Concrete To Add Traction
Winter brings the most lovely moments, such as families playing in the snow, friends gathering around the fireplace, ski adventures, etc. But it also increases weather-related concerns. One of the most crucial of these is slip and fall accidents due to the lack of traction on snow.
As we feel that we have fixed our winter woes, we are introduced to a new problem in the spring: fractured concrete. The freeze-thaw cycle and the toxic chemicals that we unknowingly use in winters bring up this damage. So, let's figure out how to make our new concrete last longer without scaling or popping out.
Two Most Common New Concrete Foes
Rock Salt
Rock salt is a mineral form of sodium chloride (table salt). It keeps roadways from becoming icy and is an anti-slip traction agent. It lowers the freezing point of water but at the same time can be dangerous to your new concrete. Because salt is slightly acidic, it breaks down the chemical linkages that make the concrete strong. Another factor that aggravates the matter is that most driveway concrete has steel that weakens when exposed to salt. It can be exceedingly damaging to grass and bushes, as well as nearby water bodies.
Sand
Sand does not melt ice as rock salt does. It has an abrasive quality which makes it an anti-slip traction agent. Sand is only effective if it is on the ice's surface and needs to be reapplied when it gets covered by snow. As excessive amounts of sand can accumulate in drains and drainage areas, it's critical to sweep up sand after storms, or you'll have problems in the spring.
Get ready for winter with the ONLY Pet Safe Ice Melt you can trust
How Does Ice Melt Damage Your New Concrete?
Ice melt should not be applied to new concrete as its chemicals cause irreversible damage. While your concrete contractor may claim that concrete cures in 28 days, that is not the case. It's true that after four weeks, concrete can be sealed but the chemical changes to harden it takes much longer.
It is a known fact that ice melt and salt products are hazardous to our concrete. Sodium chloride, potassium chloride, calcium chloride, and magnesium chloride are the typical salts used to melt snow. These chemicals cause corrosion effects causing cracks and flakes to appear on concrete.
What To Use On New Concrete To Add Traction?
We know it is not safe to use ice melt on new concrete then, how can we overcome the problem of slippery walkways and driveways? The solution lies in using natural traction agents.
As a new concrete owner, you need to be more cautious about the compounds you use on it and, these natural traction agents are free from salts and chemicals.
These agents create a solid layer on a surface to provide better footing for traction on snow. Firstly, they absorb excess water that makes ice less slippery. Then, the gripper granules dig into the ice and create a dry, non-slippery layer.
Get ready for winter with the ONLY Pet Safe Ice Melt you can trust
Conclusion
The natural traction agent not only solves your problem of slip and fall but also keeps your concrete safe. Moreover, these products are pet-safe, kid-safe, and environmentally friendly, thus giving you a complete package deal on traction.
Other Ice Melt Products
Safe Paw
The Original and the #1 Pet and Child Safe Ice Melt for over 20 years. Guaranteed environmentally safe – will not harm waterways and sensitive wetlands. Safe Paw can change how winter affects our planet.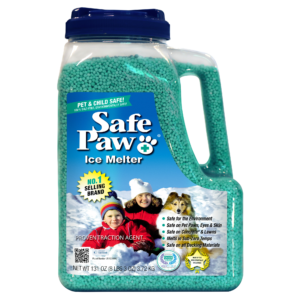 Safe Thaw
Imagine an ice melt you can put down and never worry about. It won't harm pets, kids and your property. That's Safe Thaw. Unlike anything else on the market, Safe Thaw can change how winter affects our planet.