Winter Preparation: Best Traction Agent For 2022
Getting rid of the treacherous and slippery layer of ice in winters is a major challenge. It is always dangerous to walk on the ice as it leads to slip and fall accidents. Sometimes these accidents can cause severe injuries like bone fractures or head injuries. Therefore, it is your responsibility to provide your store customers or apartment residents a safe passage by getting rid of the snow from the driveways, pavements, sidewalks, and steps.
It is a common practice to shovel off some fresh snow after the snowstorm followed by spreading chloride-based (rock salt) ice melt on the sidewalks. It might look like a straightforward way to get rid of the ice, but do you know how much damage rock salt causes to your concrete, pets, kids, or plantation.
It is like getting rid of one small problem by inviting a bigger one into the house. And above all, ice melt takes hours to work, and sometimes you need immediate traction on a sidewalk or parking lot.
In this article, let's check out some options for environmentally friendly deicing that is effective and don't harm your surroundings and pets. The best way to get immediate traction on the surface without causing any harm to your concrete or plant & machinery is by using traction agents. A traction agent is like an organic salt-free deicer that increases the friction on the ice layer and thereby preventing the occurrence of any unfortunate accidents.
Good traction agents absorb excess water on the ice layer and provide a sandpaper-type effect by improving the grip of your shoes in the slippery ice layer.
There are different options that you can choose when it comes to buying traction agents. Let's have a look at the most commonly used ones.
1. Traction Magic
Traction Magic is composed of natural geo crystals and consists of two types of granules. The absorber granules maximize the absorption of the free water on the surface of the ice, and the gripper granules with their spiky structure bury themselves into the ice and create better traction for walking. 
It is 100% environmentally safe, chemical-free, and pet safe. It contains all-natural minerals that are completely safe to use around pets, kids, and plants. If you're looking for the best ways for environmentally friendly deicing then Traction magic is something you should try.
Get ready for winter with the ONLY Pet Safe Ice Melt you can trust
2. Sand
Sand is also commonly used as a traction agent. However, it is not that effective and works for a comparatively short interval of time.
Also, sand can be very messy as it converts into a sludge that chokes storm drains and contaminates the water.
3. Kitty Litter
Kitty litter consists of clay granules that absorb water. However, kitty litter becomes slick when wet. Once the ice melts, it leaves sticky lumps of clay that are difficult to clean.
Conclusion
In this article, I've mentioned a list of the most effective traction agents that you can buy for the upcoming winters of 2021. You can use traction agents to get better traction while walking on slippery icy surfaces.
Get ready for winter with the ONLY Pet Safe Ice Melt you can trust
Other Ice Melt Products
Safe Paw
The Original and the #1 Pet and Child Safe Ice Melt for over 20 years. Guaranteed environmentally safe – will not harm waterways and sensitive wetlands. Safe Paw can change how winter affects our planet.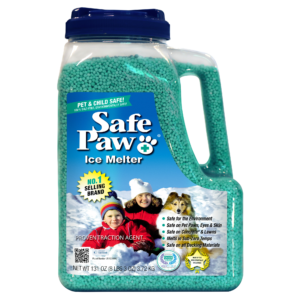 Safe Thaw
Imagine an ice melt you can put down and never worry about. It won't harm pets, kids and your property. That's Safe Thaw. Unlike anything else on the market, Safe Thaw can change how winter affects our planet.