Want Instant Traction? Here's What To Use
If you live in a high snowfall region, then you know what it takes to maintain a snow-free surrounding. Most individuals fear tripping on ice and injuring themselves. Adults and children alike might sustain significant injuries as a result of walking on thin ice and slipping. Vehicles that skid on ice have more significant repercussions than individuals who slide on the ice.
Maybe rock salt or an ice melt is your go-to solution, but it takes at least 4-5 hours to melt the ice. So, if you need to access your driveway or stairs immediately, these are not the solutions for you. In such cases, providing traction is one of the best solutions to avoid slip and fall accidents. Therefore, a traction agent works best in these situations.
In this article, we will discuss all the ways you can add traction to ice surfaces. Let's get started-
Sand Or Kitty Litter
To provide traction, many people spread sand or kitty litter in front of the drive tires. These items do work like a traction agent but require a lot more effort in cleaning. Sand accumulates in drains, which results in clogging and flooding. Kitty litter turns into slippery clay after combining with melted snow. It turns out to be more dangerous than snow and is wearisome to get rid of it.
Snow Chains
Snow chains are used for traction during winter driving and long journeys. They can be used on a variety of vehicles, from cars to trucks and coaches.
However, once the snow has melted, getting them on and off your tires can be irksome. Moreover, if you are not able to install them correctly then, they can injure your tires. With these chains, you can drive at a speed of not more than 30 to 50 kilometers per hour.
Get ready for winter with the ONLY Pet Safe Ice Melt you can trust
Non-Slip Walk On Ice Boots
These shoes have stainless steel chains tucked at the bottom to provide traction. While you may think you finally have the solution and now you can walk on ice, here's a study that says 90% of non-slip walk-on-ice shoes fail the test.
Of 98 models of boots the lab tested on ice and wet ice, only nine passed a slip test.
"You'd think winter boots would be adapted for winter, but they're not. Some of the boots are so bad that they couldn't stand up on level ice," says Dr. Geoff Fernie, research director at the rehabilitation institute.
Walk On Ice-
Walk on ice is a 100% natural traction agent, works instantly, and is free from any harmful constituents. It has natural crystals obtained from mines across the United States.
The absorbing crystals enhance the absorption of free water from the icy surface turning it less slippery. While grippers bury themselves into the ice, providing a non-slip surface with a sandpaper effect. Walk on ice achieves this while remaining completely safe to handle, chemical-free, and safe for all surfaces, including new concrete. It is easy to clean and works well in all temperatures and terrains.
Get ready for winter with the ONLY Pet Safe Ice Melt you can trust
Other Ice Melt Products
Safe Paw
The Original and the #1 Pet and Child Safe Ice Melt for over 20 years. Guaranteed environmentally safe – will not harm waterways and sensitive wetlands. Safe Paw can change how winter affects our planet.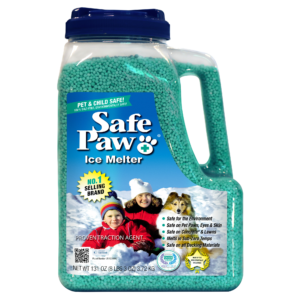 Safe Thaw
Imagine an ice melt you can put down and never worry about. It won't harm pets, kids and your property. That's Safe Thaw. Unlike anything else on the market, Safe Thaw can change how winter affects our planet.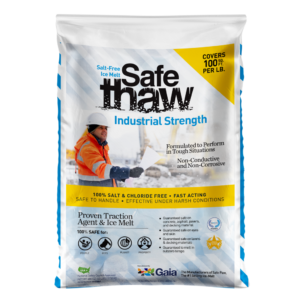 ---