Snow Melting Alternatives To Salt For Concrete Driveways
Winter is upon us, which means that we'll all be spending a lot more time on our concrete driveways and sidewalks. If you're looking for snow-melting alternatives to salt this winter, then look no further. We've got a list of organic options that will add some traction and keep your driveway safe from pitting and damage while still melting away snow and ice.
A salt is a cheap tool for melting snow, but it's also a dangerous chemical that can damage your concrete driveway if used improperly. Here are some of the biggest risks associated with salt:
Salt can stain concrete, which makes for a messy appearance and might not be allowed by your homeowner's association (HOA).
It can corrode concrete, causing cracks and water-related damage to the surface. If you live in an area where there is a lot of rain in the winter months, this could be especially problematic because salt will get into your driveway and cause more problems than just ice accumulation. If you're thinking traction-it doesn't help with that.
Salt is bad for both humans and animals alike because it causes harm to them when they come into contact with it by either ingesting or inhaling it—especially if they have any kind of respiratory disease like asthma!
Get ready for winter with Traction Magic instant grip on snow and ice
Alternatives To Salt
Use Traction agent
Traction Magic is a traction agent you can spray onto the bottom of your shoes. It helps you get some traction for boots and walk on black ice and other slippery surfaces, so you won't slip and fall! It comprises natural volcanic rock and seven other minerals that are 100% environment-friendly and can be used on your driveway or snow-covered roof.
Get ready for winter with Traction Magic instant grip on snow and ice
Snow Melting Mats
These mats are an effective alternative, though much higher in cost than rock salt. These innovative devices can be laid along walkways or driveways and plugged in to generate heat. While using these devices, be ready to pay the hefty power bill and expensive wear and tear.
Coffee Grounds
The leftover coffee grounds contain nitrogen that helps lower the ice's melting point, and the dark color of coffee absorbs more sunlight and thus works as an effective ice melt. However, it can prove to be sticky and can leave ugly stains.
Vinegar
Vinegar is a chemical compound of acetic acid and helpful in lowering the ice melting point, thus can be used as an alternative, though it is not as effective as rock salt is. Mixing an equal quantity of hot water can catalyze its melting power. It will not work in extreme weather conditions.
Ice cleats for boots
If you are looking for a convenient alternative to chains, snow cleats for boots are the way to go. They are easy to put on and can be taken off in a matter of seconds. Snow cleats also provide better traction than traditional snow chains because they can be more flexible depending on how you set them up.
Conclusion
If you have a concrete driveway, then you need to be extra careful when it comes to snow removal. Salt and sand are not good options for driveways because they can stain or damage the surface of the concrete. Instead, try using an alternative method like a traction agent or chemical-free ice melter that won't harm your driveway's integrity.
Other Ice Melt Products
Safe Paw
The Original and the #1 Pet and Child Safe Ice Melt for over 20 years. Guaranteed environmentally safe – will not harm waterways and sensitive wetlands. Safe Paw can change how winter affects our planet.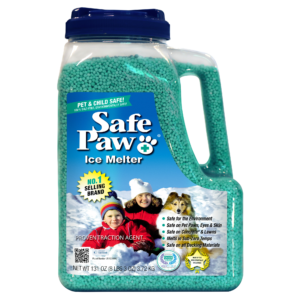 Safe Thaw
Imagine an ice melt you can put down and never worry about. It won't harm pets, kids and your property. That's Safe Thaw. Unlike anything else on the market, Ice and Snow Management You Can Trust.