Best Tips For Safely Driving On Black Ice
There's a reason why people hate driving during the snowfall. It's because it's dangerous—at least if you aren't fully equipped. You must not only deal with changes in traffic and road conditions caused by fog, snow, and ice, but you must also be cautious of limited visibility. Adding to the woes of winter driving comes to another danger of meeting black ice. It's critical to understand how to cope with black ice if you want to stay safe on the roadways this winter. The best way to ensure safety while driving in winter is by using traction for tires. So, let us know more about safe driving and how to increase traction on tires.
What Is Black Ice?
Black ice forms when a layer of water freezes over the road, leaving behind a thin film of slippery ice. Black ice, despite its name, is essentially translucent. The dark color of the road and pavement gives it its name. Because black ice is difficult to notice, it is dangerous. It's more common on roadways and in locations with little sunlight.
Tips For Safe Driving On Black Ice
When it comes to black ice, even the most experienced drivers can suffer. As a result, if you know your route will include black ice or icy conditions in general, you should carefully assess if your trip is required.
If you have to drive in snowy conditions, be ready with a traction device. There are many tire grips for snow in the market. But they may damage your tires rather than help you in winter driving. Then how to increase traction on tires? Use an instant natural mineral-based traction agent like Traction Magic. It will give your tires enough traction to keep you safe from black ice and skidding.
Get ready for winter with Traction Magic instant grip on snow and ice
If dangerous weather is forecasted, you should postpone your journey. Next, listen to your local radio station to see if any traffic restrictions have occurred.
Once you've decided to go, you'll need to make sure your vehicle is prepared for the journey. Start by inspecting your windows and mirrors to ensure that you can see well through them. If you can't see because of snow, ice, or dirt, then clear it.
If the worst-case situation occurs and you encounter a stretch of black ice and break down, you'll need to be prepared. The best method to achieve this is to make sure you have all of your necessary car goods with you.
If you reside in a location where ice conditions are common during the winter, you may want to consider replacing your summer tires with winter ones once the seasons change.
You'll need to increase your travel time. It won't happen if you go out intending to arrive at your destination in the same amount of time as usual.
Conclusion
Black ice is a danger and something you should learn more about before getting behind the wheel. You cannot remain off the road throughout the snow season. Hence, it is crucial to understand how to cope with this problem most efficiently. The all-natural traction agent is the right product to keep you away from black ice hazards.
Get ready for winter with Traction Magic instant grip on snow and ice
Other Ice Melt Products
Safe Paw
The Original and the #1 Pet and Child Safe Ice Melt for over 20 years. Guaranteed environmentally safe – will not harm waterways and sensitive wetlands. Safe Paw can change how winter affects our planet.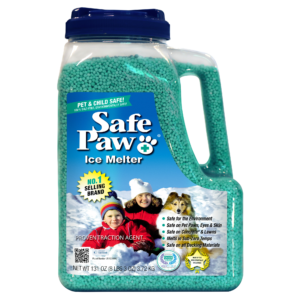 Safe Thaw
Imagine an ice melt you can put down and never worry about. It won't harm pets, kids and your property. That's Safe Thaw. Unlike anything else on the market, Ice and Snow Management You Can Trust.