Are Shoe Spikes Really Effective For Walking On Snow?
One of the biggest challenges in winters is walk on ice without slipping. Sometimes these slip and fall accidents on the treacherous ice layer can cause severe injuries like fractures. Therefore, take all the precautions while going out of the house after a snowfall. Some people prefer wearing shoe spikes and winter boots to increase traction while walking on the snow.
In this article, we'll discuss which boots you can walk on ice with and the most effective option.
Shoe spikes offer excellent traction but, they have other shortcomings that you need to be aware of.
Let us find out more about winter boots, spikes, and other traction devices.
Spikes For Walking On Ice
Shoe spikes offer better traction while walking on the slippery ice layer. These come in various designs and counts. Shoe spikes are best when you have to walk for long hours outside the house during the snowy weather.
However, most shoe spikes have the drawback of being difficult to put on and take off. Another issue is that these spikes provide good traction on the ice, but these metal spikes become lose traction on the hard surface like ceramic tiles. You can suffer ankle or knee injuries if you forget to take them off while walking indoors.
Shoe spikes can make walking extremely difficult. Therefore, it is critical to have well-fitted spikes on your shoes.
So, what are the other options so that you can walk on ice without slipping?
Walk On Ice
Walk on Ice gives is a traction agent that gives you instant traction and allows you to walk on ice without slipping. It gives you a safe, non-slippery surface due to the presence of two different types of granules.
Absorbers: Absorbers immediately absorb the excess water layer on the surface of the ice. These loose water layers are the main reason behind the slipperiness of the ice.
Grippers: Grippers have a spiky structure that firmly grips the ice. It increases the traction for walking on the ice surface.
Walk on Ice is safe for people, pets, and the environment. It is 100% natural, and therefore you can allow the product to be swept into the lawn or garden without any fear of damage.
Get ready for winter with the ONLY Pet Safe Ice Melt you can trust
Boots For Walking On Ice
Get the boots that are waterproof and are light in weight. It is better if the shoes support the ankles and have soles with good grips for providing better traction on the ice surface.
You can also get boots that have inbuilt foldable metal spikes for getting increased traction while walking outside.
Conclusion
You can easily increase the traction on the surface while walking on snow. Get some good winter boots or shoe spikes to prevent any unfortunate accidents. Traction agents like Walk on ice also come in handy and can prevent nasty bumps and bruises. Grab a disposable Walk on ice can and be ready for anything, whether you're walking to work, trail running, or ice climbing.
Get ready for winter with the ONLY Pet Safe Ice Melt you can trust
Other Ice Melt Products
Safe Paw
The Original and the #1 Pet and Child Safe Ice Melt for over 20 years. Guaranteed environmentally safe – will not harm waterways and sensitive wetlands. Safe Paw can change how winter affects our planet.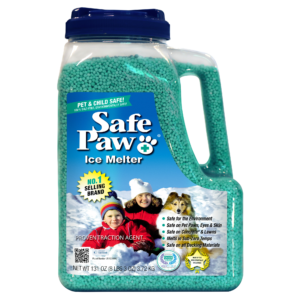 Safe Thaw
Imagine an ice melt you can put down and never worry about. It won't harm pets, kids and your property. That's Safe Thaw. Unlike anything else on the market, Safe Thaw can change how winter affects our planet.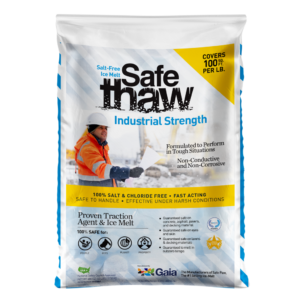 ---