7 Ways To Prepare Your Facility Area For A Blizzard
Winter storms can range in strength from a dusting of snow over a few hours to a blinding blizzard lasting many days. Blizzards are severe winter storms that combine blowing snow with strong winds, resulting in reduced visibility. Strong winds combined with heavy snowfall may paralyze a city, strand motorists, halt the flow of supplies, and delay emergency services.
A dangerous winter storm can result in roadway and highway closures, as well as the loss of internet, cable, and power outages. Preparing for a blizzard isn't something to take lightly. Here's how to get ready for a blizzard so you and your employees can stay safe.
Preparing For A Blizzard
Plan In Advance
Make sure you have a strategy in place. Is there a disaster plan in place for your company? Having one will assist you in identifying hazards, backing up critical company activities, budgeting for emergency spending, protecting your assets, and recovering faster.
Have A Backup
Back up your data and protect your files. Consider setting up a backup server or storing copies in a different location. Alternatively, store items to the cloud or an external device regularly.
Inform staff and clients about any changes ahead of time. Utilize technology to your advantage by using email, social media, and text notifications.
Use Traction To Avoid Slips And Falls.
Use an effective and instant traction agent like Traction magic to provide sufficient traction to keep your employees and guests safe from any slip and fall accidents. Spread it all along the sidewalks and doorways leading up to your company. When spread, Traction Magic does not penetrate or damage concrete or roadways, and it is safe to use around children and pets.
Get ready for winter with the ONLY Pet Safe Ice Melt you can trust
Emergency Kit
Make sure you have enough goods on hand. Get a first-aid kit, additional batteries, flashlights, light bulbs, and other necessities. Also, keep emergency contact information readily handy.
Check And Cross-Check Your Maintenance
Make a checklist and a program for preventive maintenance. Inspections and repairs of your structure, systems, and equipment regularly can help you avoid costly storm-related repairs.
Take Precautions
Make sure your physical structure is in good shape. Familiarize yourself with the dangers of flooding. Take extra precautions such as sealing windows and doors and transferring valuables to higher ground.
Secure Your Outdoors
Keep outdoor items safe. Secure goods that could blow away or be damaged if you own a construction company, a restaurant with outdoor seating, or another business that keeps precious assets outside. Business owners tend to use salt-based ice melts to avoid snow accumulation.
Avoid any salt-based ice melt as it is highly corrosive and will damage your concrete and metal goods. In case you need an ice melt, then choose an environmentally friendly deicer. It is safe for concrete, metals, pets, plants, and the environment.
Get ready for winter with the ONLY Pet Safe Ice Melt you can trust
Conclusion
Be prepared for the unexpected. Storms can strike at any time. A good plan with plenty of preparation is your best defense. Use a traction agent to keep everyone around your business safe and happy this winter.
Other Ice Melt Products
Safe Paw
The Original and the #1 Pet and Child Safe Ice Melt for over 20 years. Guaranteed environmentally safe – will not harm waterways and sensitive wetlands. Safe Paw can change how winter affects our planet.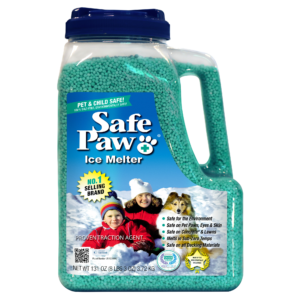 Safe Thaw
Imagine an ice melt you can put down and never worry about. It won't harm pets, kids and your property. That's Safe Thaw. Unlike anything else on the market, Safe Thaw can change how winter affects our planet.