4 Tips For Weathering The Next Storm
Blizzards and other severe winter storms can be dangerous and challenging to survive. The extreme cold, high winds, ice, poor visibility, and freezing rain often result in power outages and road accidents. Blizzard preparation means getting yourself ready well in advance to face the challenges of extremes weather.
Here are a few important tips in this article that can help you to make advance blizzard preparation.
1. Have a Power Backup
A blizzard can cause power outages that can sometimes last even for days. You can buy or rent a standby generator for emergency purposes. It can easily provide electricity to cook, keep the lights on, and stay warm. A small generator might not power all your appliances, but it is enough to help you survive and keep your store running.
2. Stock Food and Supplies
Well before a storm hits, stock up at least a three-day supply of foods, water, first aid kit, pet supplies, batteries, canned heat, flashlights, candles, heating fuel, and any required medications. During the storm, your neighborhood might get isolated due to heavy snow, ice, or fallen trees.
3. Get Ready for Snow Removal
Get your shovel and snow-blowers ready to remove tons of snow after the storm. It is important to timely remove the freshly fallen snow so that it doesn't convert into a treacherous layer of slippery ice that is difficult to remove. To further prevent the formation of ice, you have to spread ice melt on the sidewalks, parking lots, in front of the stores, or residential apartments. While selecting the ice melt make sure you are not going with a chloride-based ice melt like rock salt. These chloride-based salts can cause severe damage to your concrete, corrodes plant & machinery, contaminates the water, destroys the nearby plantation, and are very harmful to pets and kids if it gets ingested by them. 
So what should you use instead? Go with natural deicer. There are environmentally friendly deicers that are effective at very low temperatures and are safe to use.
Get ready for winter with the ONLY Pet Safe Ice Melt you can trust
However, ice melt takes time to work. But, if you need immediate traction on the ice surface to provide a safe walking path for your customers or residents, you should go with natural traction agents. Traction Magic is one such natural traction agent that absorbs excess water from the ice layer and increases the friction to walk safely on ice. There are other traction agents in the market like sand, kitty litter, or sawdust to choose from.
4. Prepare Your Car
Traveling during a blizzard is not advisable due to slippery roads and poor visibility. But if you must, it's important to have a car safety kit in your car. This kit should include items like extra blankets and warm clothing, a flashlight, a shovel, a windshield scraper, water, and snacks.
Use winter tires while driving in the storm to get better traction on the road. Traction agents like Traction Magic can also provide the required traction for your car if it gets stuck in the snow. You can simply rub the granules on the tire surface for some extra traction to overcome slippery steep inclines.
Conclusion
Snow is beautiful, but when it starts falling so hard that it knocks out power and makes travel impossible, it can be dangerous. Don't be caught unaware by a severe winter storm. Make arrangements to face the extreme weather storms so that you can keep yourself, your family, and your customers safe.
Get ready for winter with the ONLY Pet Safe Ice Melt you can trust
Other Ice Melt Products
Safe Paw
The Original and the #1 Pet and Child Safe Ice Melt for over 20 years. Guaranteed environmentally safe – will not harm waterways and sensitive wetlands. Safe Paw can change how winter affects our planet.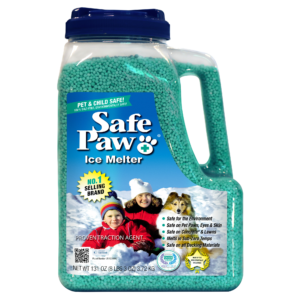 Safe Thaw
Imagine an ice melt you can put down and never worry about. It won't harm pets, kids and your property. That's Safe Thaw. Unlike anything else on the market, Safe Thaw can change how winter affects our planet.