Why Must You Remove Ice From Your Store's Sidewalk?
Preparing for blizzards has become a must today. It is not only restricted to homeowners but extends to commercial property managers and store owners as well. Imagine walking up to your store only to find a pile of snow around it. Without essential equipment like a shovel, it can become difficult to remove the snow from the door.
Every year nearly a million Americans get hurt by slipping or falling on ice. It is a considerable number considering several of them turn out serious as well. In addition, your sidewalk is the first point of contact for anyone walking in and out of your store. Therefore, you need to maintain a strict vigil around your store sidewalk to ensure nothing untoward happens.
So, why is it important to remove ice from your store's sidewalk?
1. Ice is hazardous, and falling on it can cause irreversible damage. Therefore, you must prepare for a blizzard well in advance to avoid any untoward experiences.
2. Your store might have a few broken tiles in the fall and couldn't fix them before winter. Ice will stay stuck in the crevices, even if you remove it from the surface. It will result in your customers slipping or falling, making it an expensive affair for you in the future.
3. You owe safety and security to your customers when they walk into your store. However, you can maintain this only if you are preparing for blizzards the right way.
4. You do not want to be caught in any legal hassle or liability due to unkempt sidewalks. While every state has its snow removal laws, it is best to steer clear of any complications right at the beginning.
5. With a clear sidewalk, you will also avoid unnecessary attorney expenditure that will add to your overhead cost.
Prepare for blizzards in a 100% environment-friendly way.
Traction Magic is a unique dual-patented product that helps to protect anyone walking on icy surfaces anywhere. It is available in all leading offline and online retail stores and e-commerce websites in different sizes and quantities. As a store owner, you can liberally spread Traction Magic around your premises and see it work wonders for up to 72 hours. Then, you can remove it post that, or sweep it off. It causes zero harm to your concrete and vegetation.
Get ready for winter with Traction Magic instant grip on snow and ice
Conclusion
All sidewalks become potentially dangerous during winters. From cracks to uneven surfaces, there are several reasons why you need to pay extra attention to your sidewalk and prepare for a blizzard immediately. However, all your customers deserve peace of mind when they come shopping at your store, and with the help of environment-friendly traction agents and deicers, you can help them have a good time.
Using salt will unnecessarily leave a whitish residue around the premises and also cause a lot of brine. With the help of Traction Magic, you can dust the product off your shoe sole or sweep off the product in case we do not want to use it.
Get ready for winter with Traction Magic instant grip on snow and ice
Other Ice Melt Products
Safe Paw
The Original and the #1 Pet and Child Safe Ice Melt for over 20 years. Guaranteed environmentally safe – will not harm waterways and sensitive wetlands. Safe Paw can change how winter affects our planet.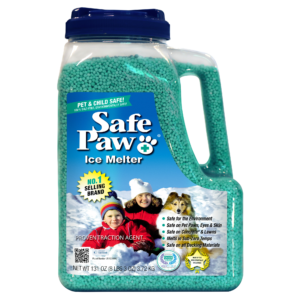 Safe Thaw
Imagine an ice melt you can put down and never worry about. It won't harm pets, kids and your property. That's Safe Thaw. Unlike anything else on the market, Safe Thaw can change how winter affects our planet.