Traction Magic – How To Use
Driving any vehicle in the winter season is hazardous because of reduced friction at the tire-road interface due to ice formation on the road during this season.
So what to use for traction on ice? You may already know the dangers of using rock salt or chemical-based ice melt and traction agents. More and more businesses are switching towards safer and natural alternatives. "Traction Magic" is one such alternative.
You will find reasons for this as below:
Traction Magic is the traction agent that provides ice traction for tires during the winter season. It gives you instant results while moving on snowy roads. It's also very safe and environmentally friendly because of its 100% natural ingredient blends. Just sprinkle this traction agent on the road or around the tires of your vehicle, and you can drive on the icy road without fear of slip-and-fall accidents.
Is There A Complex Process To Use This Traction Agent?
Using Traction Magic is very simple. As explained in the above paragraph, the process is the same for any surface where traction is required. You just have to sprinkle on the surface, and that's it. You are done. That's why it is known to be an "Easy Spread, Easy Go" product.
Get ready for winter with the ONLY Pet Safe Ice Melt you can trust
Why Is Traction Magic Better Than Others?
When you use other traction agents in the market, they are generally ice-melting products. These products leave a thin layer of water on the surface. And since they take a longer time to melt ice, they make that layer even more slippery and dangerous, causing minor to major slip-and-fall accidents daily.
The main component of these ice melt is salt. Therefore, they are corrosive and hazardous for driveways, pets, and children, and the environment.
On the other hand, the Traction Magic contains these two types of granules- suckers and grippers.
Suckers absorb the liquid layer on the surface of the ice making it less slippery. And grippers hook themselves into the icy layer, giving a stable surface for you or your vehicle to move.
Let Us Look Into Different Conditions Where You Can Use Traction Magic:
Move Easily On Icy Surfaces Using Traction Magic:
Traction Magic is the most trusted product, acting as ice traction for the tires of your vehicle. The basis of the trust is the blend of its natural ingredients, making it environmentally friendly and safer for use almost anywhere- be it on the roadways, sidewalks, parking lots, homes, offices, etc.
Traction Magic Also Works On Oil And Paint Spills:
Traction Magic can not only provide traction for your vehicles on the ice, but you can also sprinkle it on the oil or paint spills and get going without the fear of slip-and-fall.
Best Option For Your Workers In The Factory:
Many workers slip and fall during the winter season due to the icy surfaces. As an owner, you can easily spread this Traction Magic across all the surfaces in your factory and stop worrying about these types of accidents.
Get ready for winter with the ONLY Pet Safe Ice Melt you can trust
Conclusion
You could see the Traction Magic works not only for traction on ice but also on oil and paint spills. Also, using it is very simple. You just have to sprinkle and see the magic of this wonderful product instantly.
Other Ice Melt Products
Safe Paw
The Original and the #1 Pet and Child Safe Ice Melt for over 20 years. Guaranteed environmentally safe – will not harm waterways and sensitive wetlands. Safe Paw can change how winter affects our planet.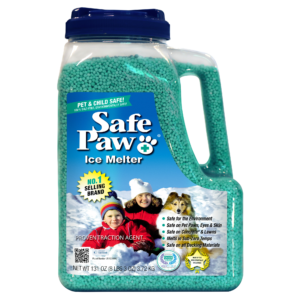 Safe Thaw
Imagine an ice melt you can put down and never worry about. It won't harm pets, kids and your property. That's Safe Thaw. Unlike anything else on the market, Safe Thaw can change how winter affects our planet.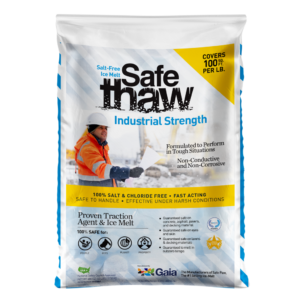 ---