Traction Magic- Does It Work?
Slip and fall accidents are a real cause of worry in winters. There are many road accidents because of the lack of traction on the roads and skidding of cars.
Statistically, around 156000 crashes happen annually, and nearly 800 Americans die every year due to car crashes because of icy roads. So, even though we love this season so much, we have to face these winter woes. So the question here is what to use for traction on ice. You will find your answer as below:
Traction Agent
We have a wonderful traction agent called Traction Magic which is a product of 100% natural ingredients. It's a blend of natural volcanic rock and seven other minerals making it safe on all surfaces, chemical-free and re-usable.
It's an easy spread, easy go product and an ISO 9001 certified natural traction agent that is non-toxic for pets, plants, children, and the environment.
Get ready for winter with the ONLY Pet Safe Ice Melt you can trust
How Traction Magic Works
There are two types of granules in this carefully crafted formula of traction agent, suckers and grippers. These granules together cause a two-way effect.
Firstly, the liquid layer of water gets absorbed by the suckers on the surface of the ice, removing slipperiness. Then grippers hook themselves into the ice forming a non-skid stable surface for the cars or any vehicle to travel. 
It provides friction on slippery surfaces, making them more stable. You just have to spread this traction agent on the surface and around the tires of your vehicle, and then you can safely drive your car or any vehicle without fear of accident.
Get ready for winter with the ONLY Pet Safe Ice Melt you can trust
Why You Should Use Traction Magic
There are several benefits of using Traction Magic. Some of them are listed below:
Traction Magic starts working right away as soon as you use it on the slippery surface. It can be used on any surface around your parking lots, roadways, offices, and sidewalks to avoid any slip and fall accidents.
Unlike other traction agents that include hazardous chemicals and caustic salts that can destroy roadways, parking lots, etc., Traction Magic doesn't is non-corrosive and harmless to your driveway and machinery.
Portable for Emergency Supply:
You can easily carry the Traction Magic bucket inside your vehicle. Whenever you find difficulty in moving your car ahead because of the icy surface on the road, you can simply spread this traction magic on the road and get going.
Plants and the environment suffers long-term side effects using traditional salt-based hazardous traction agents. On the other hand, Traction Magic acts as the best soil conditioner, boosting tree and plant growth wherever applied. 
Conclusion
If you are looking for "what to use for traction on ice" or "how to increase ice traction for tires" on snowy or icy surfaces, Traction Magic is the best choice for you.
You can see that it works on the roadways, parking lots, and other commercial places without harming your driveway, machinery, or environment. It helps in preventing accidents without any side effects of chemicals.
Get ready for winter with the ONLY Pet Safe Ice Melt you can trust
Other Ice Melt Products
Safe Paw
The Original and the #1 Pet and Child Safe Ice Melt for over 20 years. Guaranteed environmentally safe – will not harm waterways and sensitive wetlands. Safe Paw can change how winter affects our planet.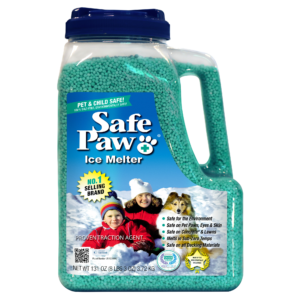 Safe Thaw
Imagine an ice melt you can put down and never worry about. It won't harm pets, kids and your property. That's Safe Thaw. Unlike anything else on the market, Safe Thaw can change how winter affects our planet.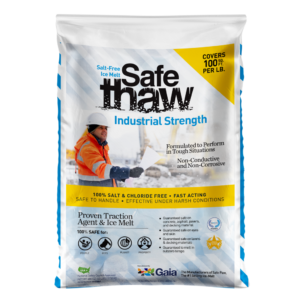 ---