Traction Agent For Shoes And Car
Whether you're out for a hike, about to go for a run, or need to do some household chores, you can never underestimate the importance of having good traction. It is equally important that you have the right amount of traction on your shoes— too much and it will be hard to walk in them; too little and they become unwearable. The best thing about traction agents is that they are easy to apply! You simply need to brush or spray your shoes with one before wearing them
If you're someone who spends a lot of time on slippery surfaces, then Traction Agent is for you. It's the perfect way to make sure that your shoes and car stay upright in any situation. Plus, it's also great for slippery stairs and floors!
Get ready for winter with Traction Magic instant grip on snow and ice
Shoes For Ice
You should also be aware that shoes for ice are not sufficient. They don't work well on all surfaces. For example, they will not grip the ice as well as they would on a dry surface. When using them on snow or slushy water, you will only be able to gain traction at a walking pace and no more.

Traction Agent For A Car.
When the worst happens, and your car is stuck on ice, a traction agent is a good option to try first. It's cheap and easy to find and is effective in most situations. Unlike kitty litter, it's not messy or smelly; it can be used in many different ways (we'll get into that later).
Try placing it around all four tires, then drive forward, braking as you do so—you may be able to free up the car stuck on ice with this method. However, it's important to note that traction agents are not a substitute for winter tires.
But not all traction agents are created equal. Choose one that's non-toxic and is proven to work. One such traction agent is Traction Magic. It comprises natural volcanic rock and seven other minerals that are 100% environment-friendly and can be used on your driveway or snow-covered roof. 
Only a heavy snowfall will allow you to get out safely with just a handful of Traction Magic under your wheels.
Get ready for winter with Traction Magic instant grip on snow and ice
Final Words On Shoes For Ice
In conclusion, traction agents are a great way to prevent slips and falls for both— shoes and cars. Shoes for ice are not sufficient. A good traction agent serves an important purpose: to keep people from slipping on wet surfaces. If you've ever slipped on ice or fallen while wearing your favorite pair of heels, then you know how important traction can be!
Other Ice Melt Products
Safe Paw
The Original and the #1 Pet and Child Safe Ice Melt for over 20 years. Guaranteed environmentally safe – will not harm waterways and sensitive wetlands. Safe Paw can change how winter affects our planet.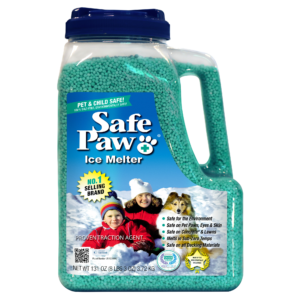 Safe Thaw
Imagine an ice melt you can put down and never worry about. It won't harm pets, kids and your property. That's Safe Thaw. Unlike anything else on the market, Ice and Snow Management You Can Trust.