Prevent Your Fall In Slippery Parking Lots Covered With Black Ice
Snowstorms and blizzards are common phenomena every winter, and team it with freezing and refreezing; the result is a thin layer of ice. It is difficult to walk on ice without slipping, and you have to tread carefully every time you take your car out too. Moreover, with the number of accidents steadily increasing every year, you have to take every precaution while stepping out of the house.
Do you know black ice forms when moisture refreezes in a thin layer on any surface? Accidents caused by black ice can lead to long-lasting repercussions. Maintaining a clear area, including parking lots, is essential to help commuters, shoppers, and employees walk on ice without slipping.
What are some common tips for walking on ice and not falling while in a parking lot?
Other Ice Melt Products
Safe Paw
The Original and the #1 Pet and Child Safe Ice Melt for over 20 years. Guaranteed environmentally safe – will not harm waterways and sensitive wetlands. Safe Paw can change how winter affects our planet.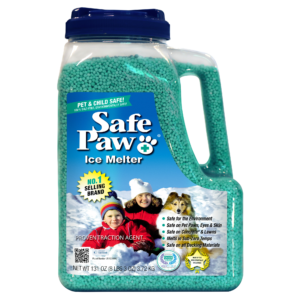 Safe Thaw
Imagine an ice melt you can put down and never worry about. It won't harm pets, kids and your property. That's Safe Thaw. Unlike anything else on the market, Ice and Snow Management You Can Trust.