Be Aware Of Black Ice When Taking Your Pets For A Walk
Today we are more aware of the far-reaching dangers of walking on ice and the injuries it can cause. Whether at home or work, winter is when you will encounter black ice (a thin invisible icy layer on concrete that merges with the pavers or road). While we often take care of ourselves while stepping out, we need to pay attention to our pets as well.
How Does Black Ice Form?
Black ice is formed when rain and snow falls and the temperature climbs above freezing point. It can also form when dew or fog develops and the temperature freezes again. On the road, it will begin when the heat of the car tires is coupled with the freezing temperature. There is an instant freeze/thaw/refreeze cycle that creates this phenomenon.
How do pets get affected, and how can you prevent the dangers of walking on ice?
Other Ice Melt Products
Safe Paw
The Original and the #1 Pet and Child Safe Ice Melt for over 20 years. Guaranteed environmentally safe – will not harm waterways and sensitive wetlands. Safe Paw can change how winter affects our planet.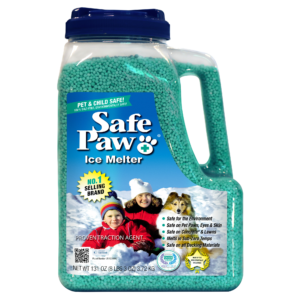 Safe Thaw
Imagine an ice melt you can put down and never worry about. It won't harm pets, kids and your property. That's Safe Thaw. Unlike anything else on the market, Ice and Snow Management You Can Trust.