Apartment Building Does Not Salt Properly? Do This!
Did you know approximately one million Americans are injured every year and nearly 600,000 hospitalized every year due to falls on ice? Slippery surface traction causes people to lose their balance, thus, resulting in a painful fall. As per other statistics, falls account for 64% of insurance claims and nearly 20% of all spinal cord injuries in Americans every year.
In winter, you know how slippery and icy surfaces can get. Therefore, landlords and property managers have to constantly ensure the safety of tenants and look for solutions to add traction on stairs, walkways, driveways, areas around the building, and much more.
Concrete and snow are a dangerous combination that can result in slippery surface traction. As snow melts, the excess residue tends to seep into the crevices of the concrete, thus damaging it.
One of the most popular methods used by apartment buildings to melt snow and provide traction is Rock Salt or Sodium Chloride. It is an easily accessible product available in almost every hypermarket across the country. It melts ice over a more extended period and works well for temperatures up to -20 or -25 degrees Fahrenheit. It ideally takes about 20 to 25 minutes for the Rock Salt to melt snow below freezing temperature.
Get ready for winter with the ONLY Pet Safe Ice Melt you can trust
However, apartment buildings need to increase traction on slippery surfaces and thus apply alternate methods, such as –
Grit– Another popular method to increase the traction of slippery surfaces is Grit. Made of a combination of sand, gravel, and birdseed, it helps in making stairs and walkways less slippery. But it can create a mess as you enter your apartment and home because it sticks to the soles of the shoes.
Calcium Magnesium Acetate– Another alternative to traditional snow melting methods in apartment buildings is CMA or Calcium Magnesium Acetate. This is specifically designed to suit the environment and is less damaging to the concrete but can provide respite up to -20 degrees Fahrenheit temperature only.
Another less popular but extremely effective method to help apartment buildings tackle their snow and ice problem is using a non-toxic traction agent. This agent includes a combination of crushed volcanic rocks and other milled and dried natural geo-crystals. These crystals act as anti-slip agents, give a good grip on any icy surface and provide good traction for stairs.
The absorbers in Traction Magic absorb the liquid on the ice making it less slippery. The grippers, another granule component, then use their gripping capacity to attach themselves to the ice.
Conclusion
Traction Magic is a non-toxic traction agent that creates friction to keep your sidewalks, pavement, and walkways safe on any icy surface. This product with natural ingredients is also safe to use around cars, children, and pets.
Get ready for winter with the ONLY Pet Safe Ice Melt you can trust
Other Ice Melt Products
Safe Paw
The Original and the #1 Pet and Child Safe Ice Melt for over 20 years. Guaranteed environmentally safe – will not harm waterways and sensitive wetlands. Safe Paw can change how winter affects our planet.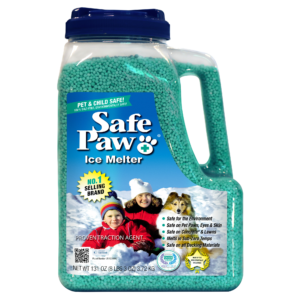 Safe Thaw
Imagine an ice melt you can put down and never worry about. It won't harm pets, kids and your property. That's Safe Thaw. Unlike anything else on the market, Safe Thaw can change how winter affects our planet.