3 Things To Keep In Mind While Walking On Ice
There's a reason why the idiom "walking on thin ice" refers to being in danger. Walking on ice is quite risky. During the winter season, more caution is required especially while walking on ice. The beforehand preparation for a blizzard will also help you to avoid any unwanted incidents. Keep these crucial precautions in mind to keep you on your feet during winter.
Wear Appropriate Shoes
When walking on ice, your shoes can help you avoid slipping and falling. When walking on ice, wear non-slip rubber, neoprene, or abrasive composite flat shoes or boots. They must be well-fitting and have grooved soles.
Avoid Shortcuts
Instead, use the approved paths or sidewalks. Plan ahead of time and look for the safest path. A shortcut might not be safe because the road hasn't been cleared of ice yet.
Look At The Road
Check for slippery surfaces and uneven spots as you walk to determine your next step. Look up now and then to see if there's any ice falling from the sky.
Step outdoors as soon as you exit your vehicle before grabbing stuff and recovering your belongings.
Most of the slip and fall incidents happen after the blizzard. Hence, apart from knowing how to walk safely on ice, it is also vital to check your safety plan for winters. It brings forth another issue that is how do you prepare for blizzards.
Get ready for winter with the ONLY Pet Safe Ice Melt you can trust
How Do You Prepare For A Blizzard?
If you need to dig your way out of your house, you'll need ice melt. Use an ice melt that is salt-free and safe for people, pets, and the environment. It will keep snow from accumulating on the driveway and walkway. When you can use it before the blizzard, it will not let the snow stick to the surface and you can easily remove it.
After the storm has passed, you can spread it on the accumulated snow to hasten the melting process. It is a good idea to choose an ice melt with colored pellets as it will give you an idea of where it is already put. Moreover, there are ice melts with traction agents in the market. These products will not only melt ice but will also provide you with traction.
It's a good idea to have a stock of water, food, medicine, and other necessities on hand. Make sure each family member has additional clothing or blankets to keep them warm in the event of a blizzard. Get an emergency radio and extra batteries to prepare for a blizzard. Radios are inexpensive and easily accessible, and they will keep you informed about weather alerts and winter storm warnings.
It is critical to have a car safety kit ready with you before the storm. If you need to drive during bad weather, you have a supply of food, water, batteries, and ice melt with you.
Conclusion
You never know when bad weather can strike, it is always a good idea to prepare in advance. Follow the precautions while walking on treacherous ice, and make sure to get a good ice melt with traction to safeguard your family and visitors from slip and falls. Your safety during heavy snow depends on how you prepare for a blizzard in advance.
Get ready for winter with the ONLY Pet Safe Ice Melt you can trust
---
Other Ice Melt Products
Safe Paw
The Original and the #1 Pet and Child Safe Ice Melt for over 20 years. Guaranteed environmentally safe – will not harm waterways and sensitive wetlands. Safe Paw can change how winter affects our planet.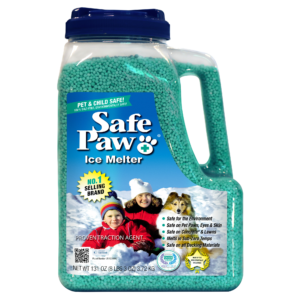 Safe Thaw
Imagine an ice melt you can put down and never worry about. It won't harm pets, kids and your property. That's Safe Thaw. Unlike anything else on the market, Safe Thaw can change how winter affects our planet.