You Do Not Need Winter Boots To Walk On Ice
Winter brings with it snow covered roads, driveways and sidewalks. Your walk to the workplace and market does not remain the same. Slipping and falling becomes a real threat. It's not only humiliating, but it can also be dangerous.
In this article we will discuss walking on ice safety tips and how you can add traction for walking on ice. Accidents can be avoided by following a few easy procedures.
One of the most common ways to add traction on snowy surfaces is using cleats or winter boots. Adding cleats to your boots does provide traction but the same factor that makes ice cleats a safety tool outside makes them dangerous indoors if you do not remove them. When worn indoors on hard surfaces such as tile, ceramic, linoleum, sealed concrete, or epoxy, these cleats become a serious slip danger.
But the reality is you don't need winter boots or cleats to walk on ice. Here are a few easy tips that can prevent you from the dangers of ice.
Check If The Ice Is Safe To Walk On
You can easily check the strength of the icy layer before stepping on it.
Blue ice is twice as strong as white opaque or snow ice. Wet snow freezes on the ice, forming an opaque colored surface. Grey ice is dangerous. For walking or skating alone, the minimum ice thickness should be 15 cm. Snowmobiles require a depth of 25 cm.
Use A Traction Agent
Use a reliable instant traction agent like Walk on ice. It will give you enough traction to walk safely on ice without using special footwear for walking on ice. Walk on ice comes in convenient disposable canisters that can be taken with you wherever you go. It can be used on tires, sidewalks, and steps as an instant traction agent. It is easy to carry and can be used at any temperature and on any surface.
Walk on ice is made of micronutrients. They allow the product to be swept into the lawn or garden for greener grass and a lush garden in the spring.
Get ready for winter with the ONLY Pet Safe Ice Melt you can trust
Be Cautious
Approach with caution in cold weather and presume that all damp, dark places on pavements are slick and icy. Dew or water vapor can freeze, generating an ultra-thin, practically undetectable film of ice that resembles a wet spot on the pavement.
Walk On Designated Paths
Shortcutting through snowdrifts and other frozen places can be dangerous. When walking, keep an eye out for a snow- or ice-covered sidewalk or driveway that may force you to proceed along its grassy edge for traction, especially if it is on a hill. It can be dangerous to take shortcuts via places where snow and ice clearance is not possible.
Whenever Possible Go Around Slopes And Stairs
You should also be aware of the surface you'll be walking on.
Stairs can make navigating ice even more dangerous, but we understand that they aren't always avoidable. When dealing with icy steps, utilize handrails, keep your hands out of your pockets, and proceed gently.
Get ready for winter with the ONLY Pet Safe Ice Melt you can trust
Other Ice Melt Products
Safe Paw
The Original and the #1 Pet and Child Safe Ice Melt for over 20 years. Guaranteed environmentally safe – will not harm waterways and sensitive wetlands. Safe Paw can change how winter affects our planet.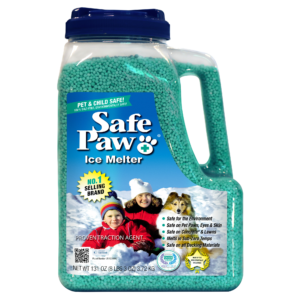 Safe Thaw
Imagine an ice melt you can put down and never worry about. It won't harm pets, kids and your property. That's Safe Thaw. Unlike anything else on the market, Safe Thaw can change how winter affects our planet.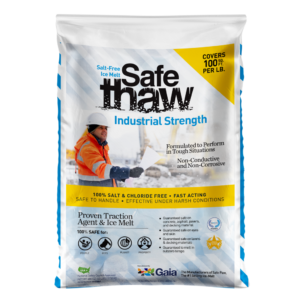 ---