Why Is Black Ice So Difficult To Melt- How To Get Instant Traction?
Black Ice is a thin layer of ice formed when the moisture freezes over the pavers and along the road. Since it merges with the concrete, it appears invisible, thus leading to several accidents every year. More than 115,000 people meet with accidents or are injured, on average, every year due to snowy conditions or icy roads. Even if we try to avoid stepping out or walking on thin ice, unavoidable circumstances lead to this all the time.
It is not easy to walk on black ice since it is far more slippery than regular ice. In addition, it does not melt quickly, and we need to wear the right shoes for walking on ice.
Other Ice Melt Products
Safe Paw
The Original and the #1 Pet and Child Safe Ice Melt for over 20 years. Guaranteed environmentally safe – will not harm waterways and sensitive wetlands. Safe Paw can change how winter affects our planet.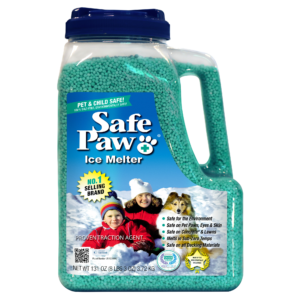 Safe Thaw
Imagine an ice melt you can put down and never worry about. It won't harm pets, kids and your property. That's Safe Thaw. Unlike anything else on the market, Ice and Snow Management You Can Trust.