Why Black Ice Is So Dangerous & How To Prevent Slipping On It
There is no time of year when driving is riskier than during the winter. And during the winter, no risk factor is more deadly than black ice. This severe hazard is typical ice that accumulates on asphalt, despite the name "black" ice. However, because it's only a thin covering of ice, it mixes in with the dark asphalt beneath it, giving it a black appearance up close.
When it rains and the temperature is at or below freezing, black ice is most likely to form. It can also happen when snow melts, creating enormous puddles of water, and then the temperature drops below freezing before the water evaporates. Snow traction is crucial for maintaining safety while walking or driving on snow.
Why Is Black Ice Dangerous?
Drivers can't see the black ice and their brakes can't work effectively on it as the tires don't have a grip on it. Drivers can quickly lose control of their automobiles if their tires can't grasp them. And the more black ice there is, the less control you have on your vehicle. Similarly, it creates problems for people walking on black ice areas.
How To Prevent Slipping On Black Ice?
Black ice nearly always forms in sheets that are exceptionally smooth and glossy. This gleaming surface is a warning sign of possible black ice. Although you may not always be able to detect black ice, looking for it is usually a good idea. It may also assist you in remaining concentrated while driving in less-than-ideal situations. Just remember to keep an eye on the rest of your surroundings while walking or driving.
Practice driving on slippery surfaces
Practice driving on ice in a safe environment if feasible. Look for a nice, big, empty parking lot that has ice on it. On the ice, practice braking. Recognize how your vehicle feels and performs in these settings.
The snow traction will help you not only to walk safely on black ice but also to drive safely in slippery conditions. You can use a natural, salt-free, chemical-free, and instant traction agent – Traction Magic. It works on all surfaces and in all temperatures. If you don't know how to increase traction on tires, then rub this product on your tires or use it while driving on a slippery surface for instant traction. You can use it around your business to keep your employees and visitors safe from slip and fall incidents. A right traction agent will help business owners to be free from slip and fall liabilities.
Get ready for winter with Traction Magic instant grip on snow and ice
Don't react rashly if your car begins to slide or skid on ice. Keep your cool and think clearly. Another thing you must avoid is putting breaks. Allow the automobile to slow down on its own by removing your foot off the accelerator. If you slam on the brakes, the vehicle will slip, making the situation much more dangerous. Use 'penguin walk' when walking on a patch of black ice.
Conclusion
As winter arrives, so will the black ice. We cannot avoid it, but we can avoid falling on it by using Traction Magic. It will give us enough to cross the slippery patch without posing any danger.
Get ready for winter with Traction Magic instant grip on snow and ice
Other Ice Melt Products
Safe Paw
The Original and the #1 Pet and Child Safe Ice Melt for over 20 years. Guaranteed environmentally safe – will not harm waterways and sensitive wetlands. Safe Paw can change how winter affects our planet.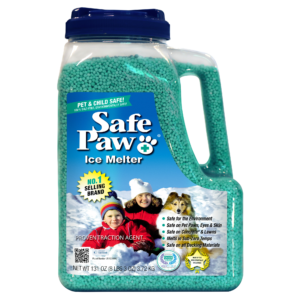 Safe Thaw
Imagine an ice melt you can put down and never worry about. It won't harm pets, kids and your property. That's Safe Thaw. Unlike anything else on the market, Safe Thaw can change how winter affects our planet.